When I attended World Tea Expo 2019, I never would have expected that a global pandemic would prevent me from traveling for most of the next two years. There is still a long way to go but getting to attend World Tea Expo 2022 gave me a much-needed bit of normalcy. This event is one I always look forward to because it is often the only time I get to see my friends from far-off places. In this post, I'll be sharing my experience and thoughts on this year's event.

World Tea Expo 2022 took place in Las Vegas, NV from March 21st-23rd. Flight times were limited so I didn't land until late Monday night. Thankfully, Cody from The Oolong Drunk generously offered to pick me up from the airport. That was the first time we ever met in person despite years of Zoom calls and Instagram DMs. My late arrival meant having to miss the 20th-anniversary party. The next morning we grabbed breakfast with Neldon of Tea with Neldon before making our way to the convention center.
A Different World
I wasn't sure what to expect, but a morning DJ set was not on my bingo card. We met up with Chase from DAVIDsTEA Share A Day while we waited for the show to begin. The entrance of the hall had just a small sign for the World Tea Expo 2022. It was clear even before the ceremonial ribbon cutting that the priority in this space would be the co-located Bar & Restaurant Expo.
Once on the floor, I was surrounded by booths for everything from lighting setups and fog machines to Tater Kegs. The tea booths finally appeared near the middle of the hall. There were 51 vendors on the World Tea Expo exhibitor list compared to 265 for the Bar & Restaurant Expo.
I couldn't help but feel a bit crestfallen at the stark difference from years past. World Tea Expo traditionally takes up most, if not all, of the convention center hall. It was the first-ever expo for Cody, Neldon, and Chase so I tried my best to live vicariously through fresh eyes. Their excitement was contagious!
We made a beeline to the tea bar to get some teacups. Funnily enough, they were emblazoned with "Denver, Colorado". Last year's event was moved back to Vegas at the last minute so these must have been leftovers.

One of the first stops we made was to see our friends from Nepal Tea. Their founder, Nishchal, shared a bit about their tea club where they facilitate video chats that connect tea producers in Nepal with consumers. How exciting is that? I happily sipped some of their Kumari Gold, one of my favorite black teas, along with a green tea and chai.


Japanese tea wholesaler Marumatsu had a very busy booth. Their eye-catching slow drip cold brewing setup helped draw in the crowd. They were also whisking up plenty of matcha. I am a bit of a purist, but the yuzu kukicha was a surprise favorite. Yuzu seems to be trending because I spotted it everywhere at the expo. There is usually an entire aisle filled with Japanese vendors, but travel is still fairly restricted.


I didn't take pictures but we sat down for a fantastic tasting at the Sugimoto booth. Noli's excellent brewing skills and knowledge combined with some out-of-this-world gyokuro, sencha, and matcha made it one of my favorite experiences of the show.
The big distributors like Florapharm and Dethlefsen & Balk, Inc. seemed to be leaning more heavily into herbal and fruit tea blends. Their booths were lined with colorful bowls filled to the rim with colorful botanicals.

Menna Life had a bright and colorful booth. It was great to get to meet their team in person. Some of you might remember that I reviewed and loved their portable tea infuser. Steeped Games and I chatted about how their tea-themed board games would make for a super fun episode of Husband Tea Torture. They were also showing off some pretty cool dice trays that made me think of my friends who play Dungeons & Dragons.


The Chai Box had an entire pot of chai bubbling away. Its milky and spicy sweetness really hit the spot. There seemed to be a lot of interest in their concentrates. It was cool to see that they offer an unsweetened version, but I'm still a loose-leaf devotee.


A large portion of the show floor was dedicated to alcohol, which makes sense for the Bar & Restaurant Expo. There was a very different vibe on the show floor because of it. Day drinking while hopped up on caffeine made for an interesting experience. I won't go into too much detail since this is a tea blog, but this article from Kim Kelly hilariously encapsulated the mayhem.
Tea Tycoons
One of the events happening at World Tea Expo 2022 that I was most excited about was the Devan Shah Tea Tycoons Competition. You can think of it as a sort of tea Shark Tank. Eight finalists competed in three different categories: sustainability, unique customer relations, and innovation. It was inspiring to see the passion that each of the business owners had for tea as they made their pitches to the judges. I can't imagine how hard it must have been to choose a single winner for each category.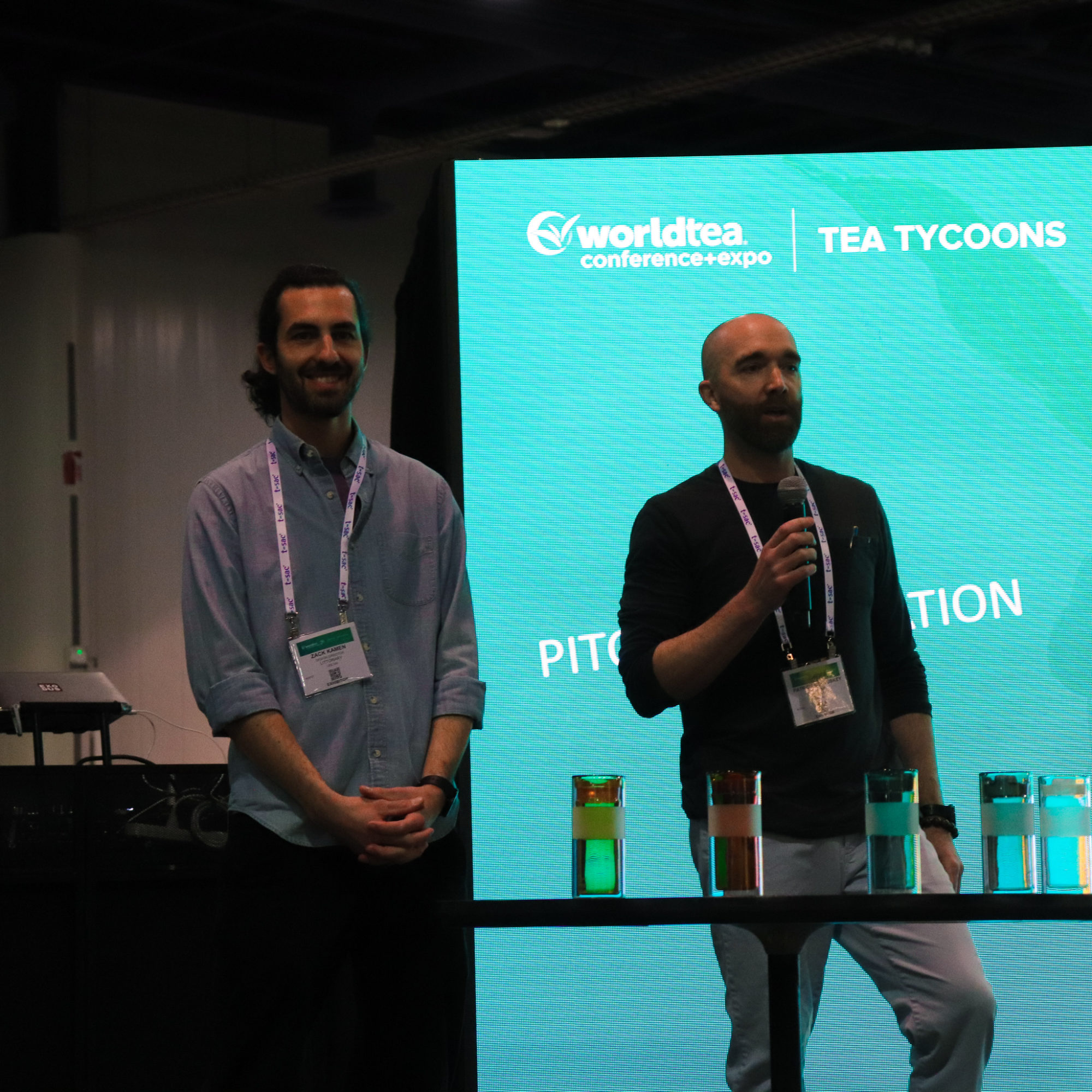 Speaking
It has been a few years since I spoke at World Tea Expo. I was excited but nervous at the time time. My session was titled "Using Short-Form Video to Educate and Create Community with Your Ideal Customer". TikTok and Instagram Reels are the waves of the future when it comes to social media. Tea brands need to start experimenting with these newer platforms and formats.
A few folks have asked if they can see my slide deck. It is embedded below. Feel free to comment on this post or shoot me an email if you have any questions!
The Tea Bloggers Roundtable took place immediately after my session. Cody and I were joined by Babette from T Ching and our fearless leader Jo of Scandalous Tea. We talked about the past, present, and future of tea writing. The blurred line between tea bloggers and journalists was also a hot topic. This panel happens every year but isn't usually listed in the show program. For World Tea Expo 2022 we were and attendance was great as a result.

Looking Forward to the Future

World Tea Expo would not be complete without getting a picture with the incomparable James Norwood Pratt. There were a lot of tea friends who couldn't make it this year but getting to keep up this particular tradition made my day. Sir J.N.P. was just as exuberant, gracious, and kind as he has always been. He has always been excited to talk to us tea bloggers (even when many in the industry didn't). If there was an award for best dressed he would have won it.
I'm grateful for the opportunity to attend World Tea Expo 2022, even if it was a different one. It is important to keep in mind that the industry is still recovering and travel is not possible for many across the globe. Next year will be even bigger and better. I love getting to see the latest innovations, but the most important part for me has always been the people.
Here's a short highlight reel of my experience at World Tea Expo 2022:
World Tea Expo 2023 will be taking place March 27th through 29th at the Las Vegas Convention Center. It looks like it will also be co-located with the Bar & Restaurant Show again as well.
Did you attend World Tea Expo 2022? What was your favorite part? I'd love to hear from you in the comments below!
I was provided with a press pass by World Tea Expo. Opinions are my own.