Tencha is a Japanese green tea that is ground into a powder to make matcha. Ten can be translated as mortar or grind, and cha is the word for tea. The processing is similar to other shade-grown teas like gyokuro, but there are some key differences. It is not common to drink it in its loose-leaf form, but it can make a surprisingly mellow and enjoyable cup of tea.
How It's Made
Tencha processing starts before the tea is even harvested. The leaves are shaded for 20 to 30 days to restrict the amount of sunlight that gets through. This can be accomplished using tarps (called tana) or screens made of reeds or straw (honzu). The first harvest of the year is typically what is used to make this tea. Later harvests might be used to make lower-grade versions like culinary matcha.
Like most Japanese green teas, the leaves are steamed shortly after harvesting to avoid oxidation. They are then dried with hot air before the stems and veins are removed. This gives the leaves a flat, flaky texture. Unlike gyokuro, the leaves are not rolled or shaped at all. It will have quite a broken appearance, but this is not a reflection of the quality. The smaller pieces without clunky stems are much easier to grind into a fine powder.
Tencha can be aged for several months (or even years) before it is ground into matcha powder. This because the tea will oxidize less quickly than it does in its powdered form. During this stage, it is stored in warehouses equipped with special refrigerators. Once an order has been received the factory will then grind the leaves using large granite mills.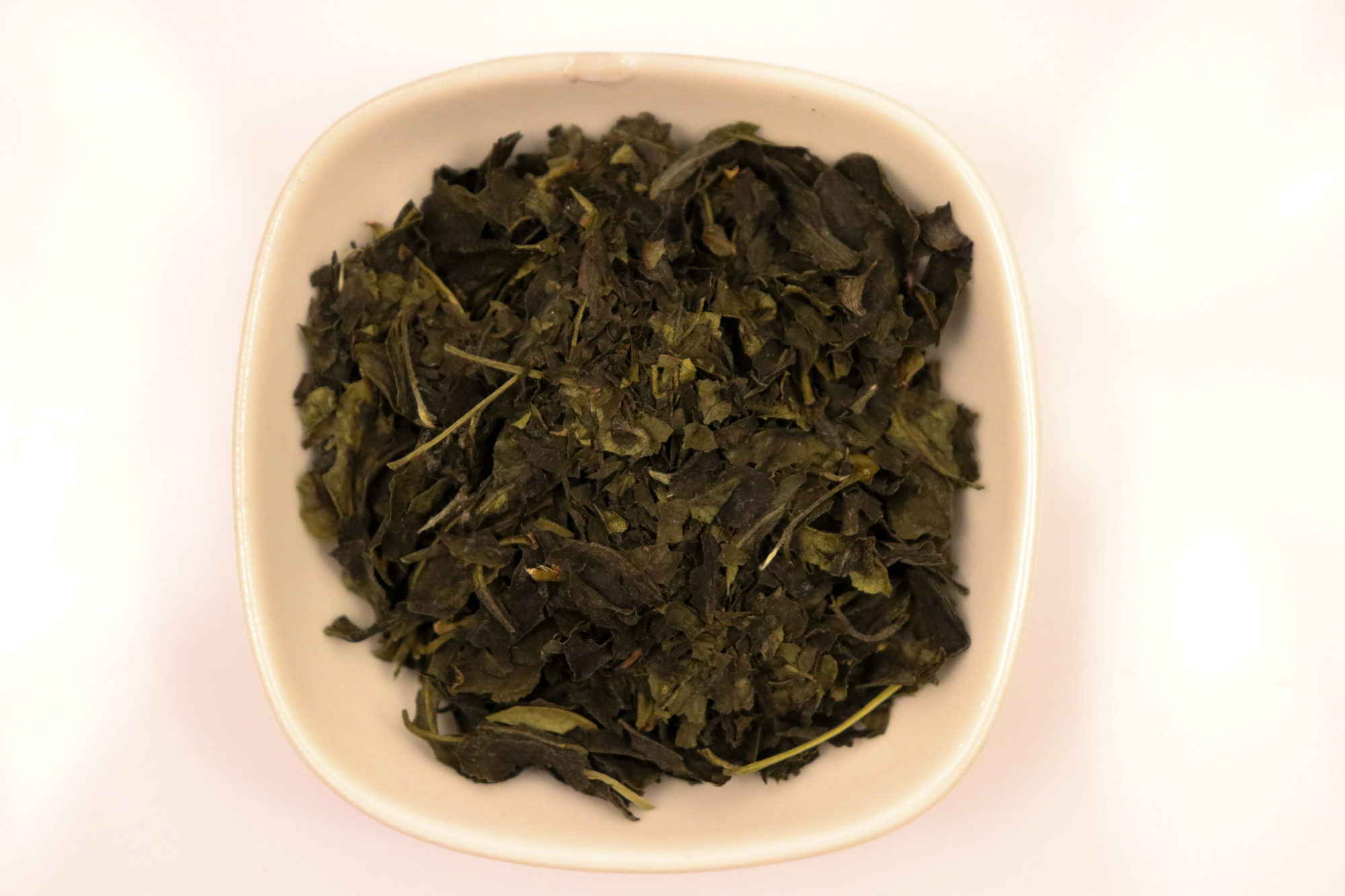 Where It's From
Just like matcha, tencha should only be made in Japan. Kyoto and Aichi prefectures produce the largest volumes of tencha and other shaded teas like gyokuro and kabusencha. It's hard to know exactly how much is tencha made because the Japanese Ministry of Agriculture, Forestry and Fisheries lists all shaded teas together in their annual reports. The tea that I photographed for this post is from Wazuka in Kyoto.
Zoom all of the way in on this Google Map and you can see rows of tea bushes. I just love it when that happens!
What It Tastes Like
If you are a fan of matcha, keep in mind that the taste is super intense because you are consuming a suspension of the entire tea leaf. Steeped tencha is VERY different. I was truly shocked by how mild it was the first time that I tried it. The taste is mellow and sweet without any astringency. It is almost closer to a white tea in strength and body. If I really concentrate, I can pick up the toasted sesame notes that still make their way into a bowl of matcha.
Tencha can be quite expensive and hard to find outside of Japan. That is because it isn't really intended to be enjoyed as a loose leaf tea. I think of it as something like mao cha, a step of the process but not really a finished product. If you enjoy the taste of tencha but want something a bit more affordable, I would recommend giving Kamairicha a try.

How to Brew It
Tencha is best when brewed similarly to gyokuro. The leaves are very fluffy so I recommend roughly doubling the volume of leaves that you would normally use. You can use a kyusu but it isn't super necessary since the leaves are not very fine. A regular teapot or mug with a basket infuser will work just as well. Keep your water temperature well under boiling, about 160 to 175 degrees and infusion time to about 1-2 minutes. The leaves can usually be re-steeped up to 3 times. It also cold brews well.

Where to Buy Tencha
There are not many companies selling tencha but here some that I can recommend:
Have you ever tried tencha before? What did you think of it? Let me know in the comments below!
Tea photographed for this post: Single Cultivar Tencha Okumidori from Kiroku Tea Garden, Wazuka, Kyoto from Yunomi
Pin It for Later!