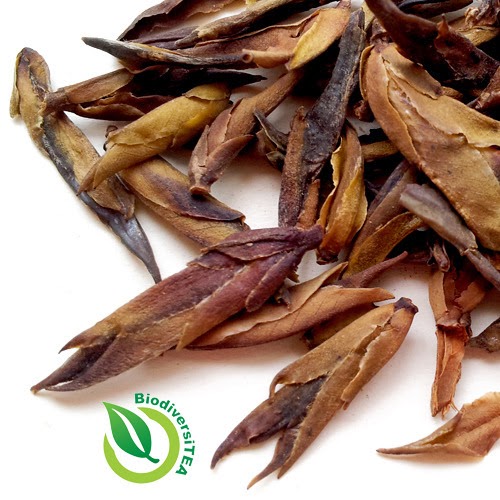 Country of Origin: China
Leaf Appearance: large buds, varied shades of green and purple
Ingredients: puerh tea
Steep time: 30 seconds
Water Temperature: 212 degrees
Preparation Method: porcelain gaiwan
Liquor: pale gold
I've been wanting to try this offering from Wild Tea Qi for some time. When I shared a picture of the unusual leaves on Instagram and Twitter, several people asked me if it was the same as Silver Buds Yabao from Verdant Tea. My photography skills and lighting were poor but I can confirm that this is definitely a different tea. The taste was sweet, mild and just vaguely reminiscent of what I would expect from a raw puerh. Although mellow, it was not lacking in flavor. There were notes of honey and interesting floral quality that lingered long after each sip. I did at least six consecutive infusions and it could have gone for several more. I really enjoy the amount of information that Wild Tea Qi provides about their teas. This one was produced by Tea Master Chen Mei. I've tried several of her other teas and they were all phenomenal.
Wild Tea Qi Wild Purple Bud Puer Tea sample provided by Wild Tea Qi