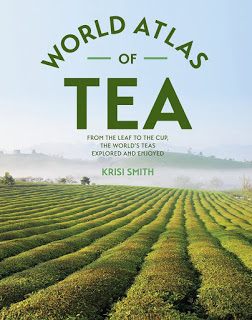 This book arrived in my mailbox just in time for a long road trip to a wedding in upstate NY. That worked out for the best because although it isn't exactly a coffee table book, it's a little too large to carry with me on my commute.
The first thing that caught my eye was the large, beautiful photographs. Many of them spanned more than one page. The chapters follow what seems to have become the typical tea book formula: how tea is made, how to brew it, and a description of various teas from around the world. The small guide to growing your own tea was an unexpected but welcome addition. Important topics such as sustainability and organics were addressed in an easy to understand way without being too doom and gloom about them. I also really enjoyed the nicely illustrated chart of tea processing. Smith's writing style is conversational and easy to read without dumbing down the content.
As an obsessively read tea nerd, I do have to mention a few things in the book that rubbed me the wrong way. Let me preface this by saying that I have great respect for anyone who successfully takes on the challenge of writing a book.
In the list of tea varieties, it says that the best oolong teas are from Taiwan. I love my Dong Ding just as much as the next person but I hardly think that it's fair to dismiss the oolongs that are produced in other countries as inferior. Teas are not better than each other, they're just different.
In the short section on tea history, there are several myths which have largely been proven false. Thomas Sullivan did not invent the tea bag and Anna Russel did not create the ritual of afternoon tea. To be fair, these are repeated in nearly every book that I've read on tea. The section on Japanese teas also states that matcha became popular with the Samurai and Buddhist monks drank it because of its high antioxidant levels.
Please, don't take my nitpicking as overly negative. I can't help doing that sometimes (as anyone who was my partner on peer reviews for papers in school will tell you). I actually did enjoy the book and would recommend it for those who enjoy building a library of tea reads. Complete newbies might want to start off with something a bit more in depth though.
I was really glad to see that there were no food recipes included. Publishers seem to insist on this being added to the end of every tea book. Maybe they are finally beginning to understand that there are a lot of people who enjoy tea for its own sake.
Have you read this book? I'd love to hear your thoughts about it in the comments!
A review copy of this book was provided by Firefly Books.