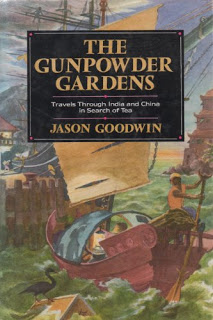 I always get excited when I come across a tea book that I haven't read before. This one popped up on Kindle Unlimited so I was able to read it for "free" through my subscription. The digital version is still fairly inexpensive even if you do have to purchase it.
There have been many books written about the history of tea but The Gunpowder Gardens takes a bit of a different route. He uses the lives of his grandmother's, one who lived in China and one who lived in India, to tell the story of this simple leaf we all love so much. This book is as much a travel book, if not more so, as it is about tea.
The author's adventures in China with Professor Tea were probably some of my favorite passages in the entire book. It's funny to hear that Yunnan pressed green tea (aka puerh) is not economical or popular. That's quite a stark contrast to the 2007 bubble and today's current dark tea craze.
Overall it was a well written and enjoyable narrative. The many differences between these two points of origin and the way tea is enjoyed are simply fascinating for a tea nerd like myself. The reading might be a bit heavy for someone new to the cult of the leaf but it'll be worth re-reading down the road. There's something to be said for personal experience versus just absorbing facts and figures. For those of us not yet able to travel, books like this can be an invaluable part of our tea journey.
My one point of contention is that there are important parts of tea history, particularly human rights issues in India, that were a bit glossed over. For this reason, I always recommend and practice reading everything you can about tea. Getting multiple perspectives deepens our understanding of every subject.