Rishi Tea Chai Concentrate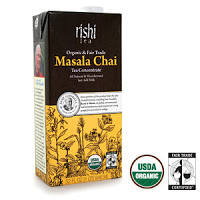 I'm a big chai person, especially on a chilly winter day, but sometimes I don't have the time or energy it takes to make it properly. That is why I am glad that I discovered Rishi Tea's Masala Chai Concentrate. All you have to do is add an equal portion of milk and heat it up. You can even pour it over iced to make iced chai. Rishi uses organic, fair trade, single origin, wild grown black tea to make this delicious treat. That's a mouthful but it means you can rest easy knowing that this tea is good for you and the place it came from. Best of all, a portion of the proceeds benefits Jane Goodall's Roots & Shoots program.
The tea was very dark with a strong aroma of cinnamon. I was amazed at just how good this was, especially since it is concentrated. Although already sweetened it isn't overdone so I still found it enjoyable. Rishi has managed to mix the right amount of spices to achieve a balanced cup. I've never had iced chai but I have found that I really enjoy it that way. I'd love to experiment with making smoothies or slushies with this as well.