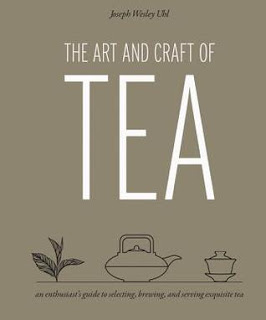 One of the best things about being part of the tea world is seeing my favorite people do awesome things. When the man behind +Joseph Wesley Black Tea announced that he had written a book on tea I may have done a happy dance. Not only did I know that he really knows his stuff but he has an incredible sense of aesthetic (but I'm sure you already knew that).
For starters, the book is beautifully designed both inside and out. It's obvious that a lot of thought went into every last detail. Most books on the subject of tea are rather stuffy affairs, full of pomp and circumstance. The Art and Craft of Tea turns that tradition on its head. Joe's wonderfully nerdy yet conversational approach combined with the crisp, modern layout makes for an engaging read.
The basics of tea history and processing start the reader off with a tool box of understanding, even if they didn't know squat about tea before turning a page. Then things take a turn towards the awesomely nerdy. Terroir and chemistry are covered in-depth. The importance of water is also discussed from a variety of perspectives. The section on brewing tea is matter-of-fact and unpretentious. Can I get a yay for tea pets being mentioned? These are just a few of my favorite quotes:
"Throughout the book, I tried to remain aware that tea's power and magic is not found in its leaves, in the liquid it creates, or in our relationship to these things, but in its ability to help us feel connected to our shared humanity."

"Tea's history cannot be distilled simply into a series of dates and events."

"When visiting a tea shop or shopping in a grocery store, you will know that it is tea when the ingredient list includes only one word: tea. If there are other words listed under "ingredients", find something else to purchase."

"Part of the fun about tea is not the destination but the journey."
The requisite collection of recipes at the end rounds out the journey. There are definitely several tea-infused cocktails that are now on my to-do list.
So now for the fun part. I've got some stuff to give away!
One lucky grand prize winner will win a copy of this book. Six runners up will receive a box of Joseph Wesley Black Tea's Great Lakes Blend.
All you have to do is a leave a comment on this post letting me know why you love Joseph Wesley Black Tea. I can't wait to see what all of you come up with!
Winners will be announced on August 8th.
You can find out more about this book here.