Teavivre Yunnan Gongfu Fragrant Black Tea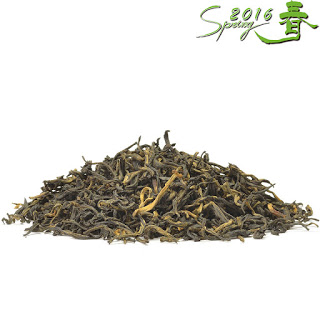 Country of Origin: China
Leaf Appearance: dark, twisted with golden tips
Ingredients: black tea
Steep time: 30 seconds
Water Temperature: 195 degrees
Preparation Method: porcelain gaiwan
Liquor: reddish amber


Here's a fun fact, +TeaVivre currently holds the title of most reviewed company on +Tea for Me Please. This is the 39th tea that I've written about from them! This is partly because they've always been very generous in sharing samples and partly because I feel they never really get the attention they deserve.
Black tea is probably the category that I drink the least of but I have a real soft spot for those from Yunnan. Once the weather starts turning chilly I get some serious Dian Hong cravings. I found myself reaching for this tea over some of my favorites on an unusually cold night. For those who don't know, Dian Hong simply means a black tea from the Yunnan Province of China.
The dry leaf was about average size with lots of visible buds. I'm such a sucker for those golden tips. They were soft and fuzzy to the touch. Yes, I pet my tea leaves sometimes but usually not the same ones that I drink so that the oils from my hands don't interfere with taste. This tea was produced from a larger leafed variety in the Fengqing area of Lincang. That probably explains why I enjoyed it so much! I have a long-standing obsession with black teas from this region.
I expected sweet and malty notes from this tea and it had both of those in spades. Surprising hints of dark chocolate (like 90% cacao, the good stuff!) and burnt sugar popped up after the first few infusions. Otherwise, this tea maintained strength throughout my session without very dramatic changes in taste. There was just enough briskness for it to be refreshing without being bitter or overly drying. I did seven consecutive infusions but I think I could have squeezed out a few more by lengthening my steep times.
One thing that can sometimes trip folks up on this company's brewing directions is that they are often for a smaller vessel than most of us use. They recommended 5g for 85ml for this one. Most of my gaiwans are at least 100ml, if not a little larger, so I used the whole 7g packet in one shot. Err on the side of heavy with your leaf volume and you should be fine. At less than $0.10 per gram, this tea is a real steal.
Yunnan Gongfu Fragrant Black Tea sample provided for review by Teavivre.