I'm always looking for new ways to make tea on the go. That is why I was excited when the founder of Teasy reached out to see if I would like to review their new portable tea infuser. It certainly looked beautiful, and the compact design seemed ideal for certain occasions. In this post, I'll share some details about its features and list the pros and cons that I found in testing it out.
Functions and Features
Teasy Portable Tea Infuser is available in three different metallic colors. I was sent the champagne gold. It is made primarily out of insulated stainless steel with a borosilicate glass lid. There is some plastic in the form of silicone rings inside of the lid. The Teasy's capacity is approximately 9oz of tea. There is a built-in infuser basket in the lid that is accessible by unscrewing the glass cap. To begin brewing, the unit is placed upside down so that the water can come into contact with tea leaves in the infuser. Turning it right side up will then stop the infusion.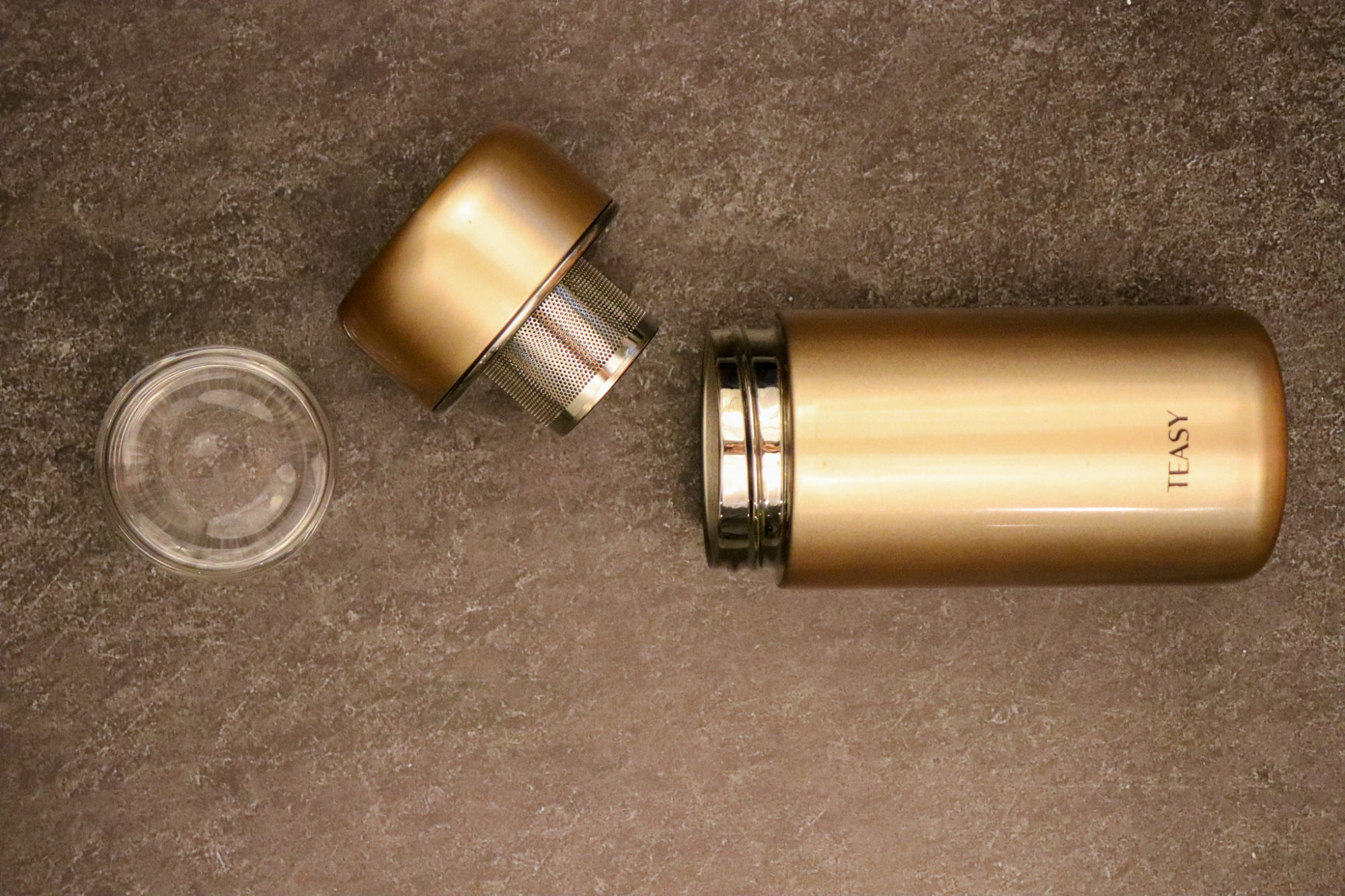 Every tea infuser has its pros and cons. Here's a list of some of the things that I liked and disliked about the Teasy Portable Tea Infuser.
Pros
Lightweight, even when filled
Compact size makes it easy to bring just about anywhere
Not having to remove the leaves is a big plus
Glass lid lets you see the tea leaves that are infusing
Infuser basket gives ample room
Easy to re-infuse the same leaves later in the day
Airtight seal with no leaking, even when tossed into a bag
Cons
Small capacity means it will need to be refilled fairly frequently
The infuser must be kept upright, or the tea will continue to infuse
Lid can get quite hot while infusing
Infuser basket holes are fairly fine but still let some tea through
If the glass lid were to break, it would not be easy to get a replacement
No marker for the fill line so it took some experimenting to find the right spot
Overall, I've really enjoyed using the Teasy Portable Tea Infuser. I loved being able to see the tea leaves through the lid. It made for a fun conversation starter as I found people were curious about the Teasy and what I was drinking from it. The infuser basket is a good size for the volume that it holds. Small leafed teas could slip through the holes slightly, so I don't recommend using it for Japanese green teas, CTC style black teas, or rooibos. I really enjoyed brewing compressed teas, like the little balls of puerh that I received from the White2Tea club.
I mostly used Teasy to make western-style brews but upping the amount of leaf also gave the option for something like a modified gongfu. That worked best for teas that do not open up very much since the infuser basket does limit the space available. As with any vessel that you're adding hot water to, steam pressure can build up. It is best to open the lid after infusing to let that release carefully.
Teasy has become the go-to tea infuser that I take with me when visiting friends or family. I can easily refill it over and over again without fussing around with taking out leaves. Of course, the small size means it is not well suited to longer trips. That is not a deal-breaker for me since I have a large collection of travel infusers for different purposes. That also meant that I did not have to worry too much about heat retention since I always finished my tea before it could get cold.
Have you tried this tea infuser? Let me know your thoughts in the comments below!
This item was provided for review by Teasy.
Help Support This Site
Become a Patron!