Last year I did a podcast episode on the Sharp Tea-Ceré, a nifty machine that lets consumers grind matcha in the comfort of their own home. It serves two purposes in a relatively small footprint. The right side of the machine features ceramic disks that can turn tea leaves into either a course or fine powder. The left side has a built in frother that is fed by a four cup water reservoir on the back of the unit. I'm a traditionalist when it comes to making matcha so most often I hand whisk it with a traditional bamboo chasen. However, there are times when I crave a green tea late and the Tea-Ceré is perfect for that purpose.

Sharp generously shared a bag of tencha from the venerable tea brand, Harney & Sons. This is the raw material that is traditionally used to make matcha in Japan. You could certainly use gyokuro or sencha instead but there are subtle differences that make tencha an ideal choice. As you can see in the picture below the leaves look quite broken because they are not rolled in the way that green teas would be. This doesn't mean that they aren't high quality though. Tencha is shaded for several weeks before harvesting. All of the veins and stems are also removed from the leaves. This results in a smoother and higher quality product when they are later ground into matcha.

In Japan, matcha is slowly ground from tencha leaves using stone mills. It can take up to an hour just to make enough finished tea to fill a 30g tin. While it's possible to obtain one of these they are heavy and very expensive. What I love about the Tea-Ceré is that it lets me to quickly grind exactly the amount that I need, even if it's only enough for one cup. Its course setting is great for culinary uses but I recommend using the fine setting if you plan on drinking your matcha. Your matcha will turn out much smoother and less clumpy that way.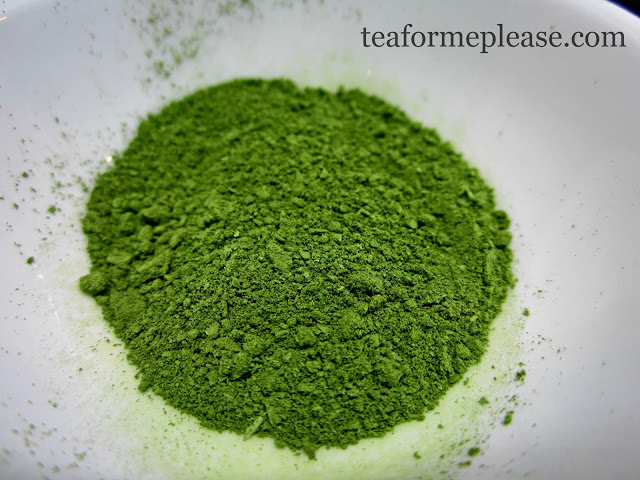 The result is a very fine, bright green powder. I've tried grinding tea leaves in other ways before but none of them turned out quite so close to the real thing. Matcha is wonderful because it is easy to incorporate into so many things. Of course, you can drink it straight or make lattes but I also enjoy cooking and baking with it. Sometimes I even incorporate matcha into homemade face masks.
Once the weather gets warm I really enjoy iced matcha lattes so I thought I would give making one a try with the Tea-Ceré. The built-in water reservoir and frother heats water but it also has a convenient cold stir option. My latte turned out very smooth and frothy. If you want more foam, it is best to make one cup at a time. Matcha is also very tasty when mixed with fruit juices so I will definitely be giving that a try soon as well.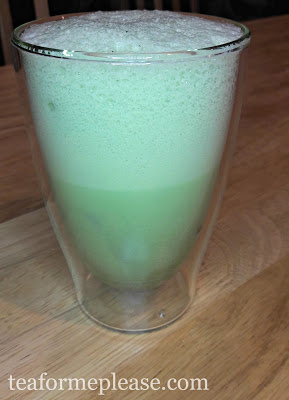 Of course, I also had to try whisking the matcha that I made by hand as well. It frothed very well with my chasen and the flavor I was looking for was definitely there. It was vegetal and sweet with just a hint of astringency. The matcha powder is so fine that it's actually a bit harder to scoop with the chashaku. An easy solution for this is to add a few more scoops than you might usually use. If you plan to grind your matcha in advance make sure to store it in an airtight container that blocks out light and moisture. Otherwise, it will oxidize quickly and lose its fresh taste.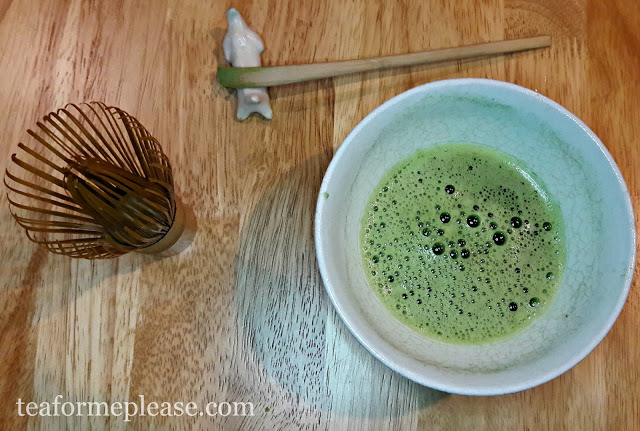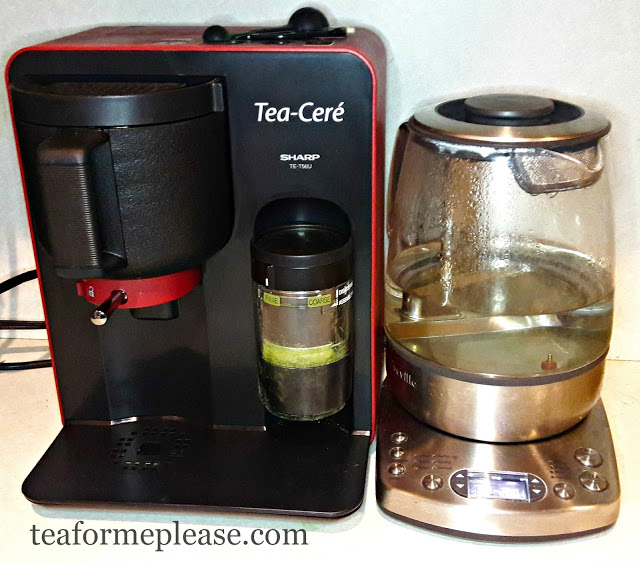 The Tea-Ceré has now earned a place of honor on my kitchen counter, right next to the Breville One-Touch. Some of my friends have recently gotten into matcha so it will be very handy to be able to make four cups at once. My fiance's Keurig is now relegated to the corner since he doesn't use it all that much anyway. No matter what he says, I think you can never have enough tea gadgets and gizmos. They all serve different functions and I definitely need more matcha in my life.
Tea-Ceré and tea were both provided by Sharp USA for this post.