I'm a devotee of the chasen but sometimes it is just not possible to prepare a bowl of matcha in the traditional way. That doesn't mean that you can't get your caffeine fix. Matcha is the tea that I travel with the most because it's the easiest to improvise with. I've seen people online use forks, spoons, or baking whisks but these just don't cut the mustard for a good tea experience. It's important to keep in mind that matcha is a suspension and will not dissolve in the water. Here are some unconventional ways that I make matcha without a whisk.
Tools to Make Matcha without a Whisk
Water or Juice Bottle
Water bottles are a classic no-fuss way to make matcha without a whisk. Just add the tea and give it a good shake. It's best to use individual packets, like those offered by Encha and Aiya, or you may need a small funnel. If your tea isn't premeasured, 2-4g is a typical serving size. Taking a big sip before adding the tea will help avoid clumping around the lid.
If I'm craving something sweeter I will often add matcha to orange juice or apple juice. It is a great alternative to adding sugar. Experimenting with different flavors is a lot of fun too. If I'm feeling dehydrated, coconut water is another excellent option. You'll get electrolytes and antioxidants all in one shot.
Milk Frother
Whether you use a hand-held electric whisk or a full-blown fancy milk frother, this method will get you the frothiest result that most closely resembles a traditional bowl. They are inexpensive and do a really good job of dispersing the powder. Be careful not to turn the whisk on before placing into the water or you'll wind up spraying matcha everywhere. Likewise, turn it off before removing it from the water. A vessel with higher sides such as a mug or mason jar will generally work better wide bowls like a chawan.
Milk frother machines range from very simple to super high tech. For matcha, all you need is something that will mix well. The one I have is the perfect size for one or two servings and offers hot or cold mixing. This comes in super handy for making matcha lattes. I also use it to froth milk for when I make stovetop chai.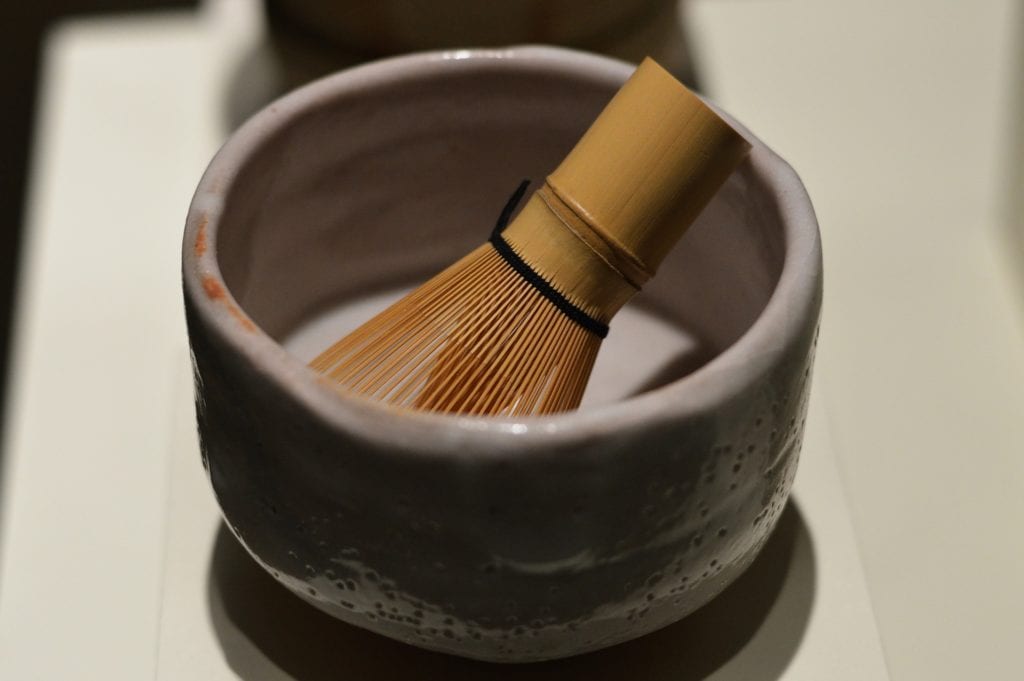 Blender Bottle
Blender bottles aren't just for protein shake swigging gym bros. They are also really great at mixing up matcha. I think they're even more effective than a regular water bottle because they usually have agitator balls inside that help to disperse powders. Another thing I love is that the bottles will usually have measurements marked on them, taking out the guesswork of figuring out how much water you have.
My only qualm with them is that they are usually made out of plastic. These are best for making cold matcha for that reason. You'll also want to double-check that the bottle you select is BPA free. If you notice scratches in the interior or offputting odors, it's time to switch out for a new one.
Cocktail Shaker
My husband bartends which means that bar tools are easily accessible both at home and when I visit him at work. Much to his chagrin, cocktail shakers are actually pretty great at making matcha. They make just the right amount of agitation and there's a built-in strainer to boot. When I worked at Teavana, shakers were the tool of choice for all of my coworkers. It was the fastest way to pump out cups of clump-free iced matcha on a very busy day.
Matcha cocktails seem to be pretty trendy lately so you can also try your hand at some tea-infused mixology. Gin and vodka tend to work well but I've also seen matcha beer and even matcha highballs. I really love the flavor combo of green tea and St. Germain elderflower liqueur.
You might also want to check out:
Do you make matcha without a whisk? Let me know about it in the comments!