Earlier this year I shared a deep dive into Organic Korean Sejak from DAVIDsTEA. This time around we're looking at their Honey Black, one of my favorites from the Garden to Cup Collection. A Taiwanese bug-bitten black tea? Yes, please! I love the idea of this tea opening the eyes of a new tea drinker to the diversity that can exist within even just one category of tea.
My Digging Deeper series is more expansive than a typical tea review and this tea seemed ideal for the next installment. It has such a cool story and I am excited to share it with you. Keep reading for everything you need to know about DAVIDsTEA's Honey Black, where it comes from, and what it tastes like.
Thank you to DAVIDsTEA for sponsoring this blog post! Sponsored posts like this one help me to cover hosting fees and other expenses for keeping Tea for Me Please running.
All About Honey Black
Taiwanese black teas are among some of my favorites, but this origin is primarily known for its oolongs. DAVIDsTEA's Honey Black is hand plucked and hand-rolled in small batches. The leaves have a twisted style and are fully oxidized.
Processing for this tea begins even before the leaves are harvested. You might be surprised to learn that the leaves are bitten by insects (and it's on purpose!). When Jacobiasca formosana, also known as jassids or leaf hoppers, nibble on the leaves it triggers a defense response in the tea plant. Volatile compounds like hotrienol and other metabolites are increased. The honey-like aroma that results from this reaction makes the finished tea even more delicious.
Jacobiasca formosana, the leaf hopper insect responsible for bug-bitten teas like Oriental Beauty, is the cause of the honey-sweet character of DAVIDsTEA Honey Black.

As is the case with all of DAVIDsTEA's Camellia Sinensis offerings, a portion of the proceeds from this tea help to support the Ethical Tea Partnership. I love seeing a larger company contributing to a fairer, more sustainable tea industry. Honey Black is certified Kosher. Their description notes that it is high in caffeine so this is a tea you might to want to steep earlier in the day depending on your level of sensitivity.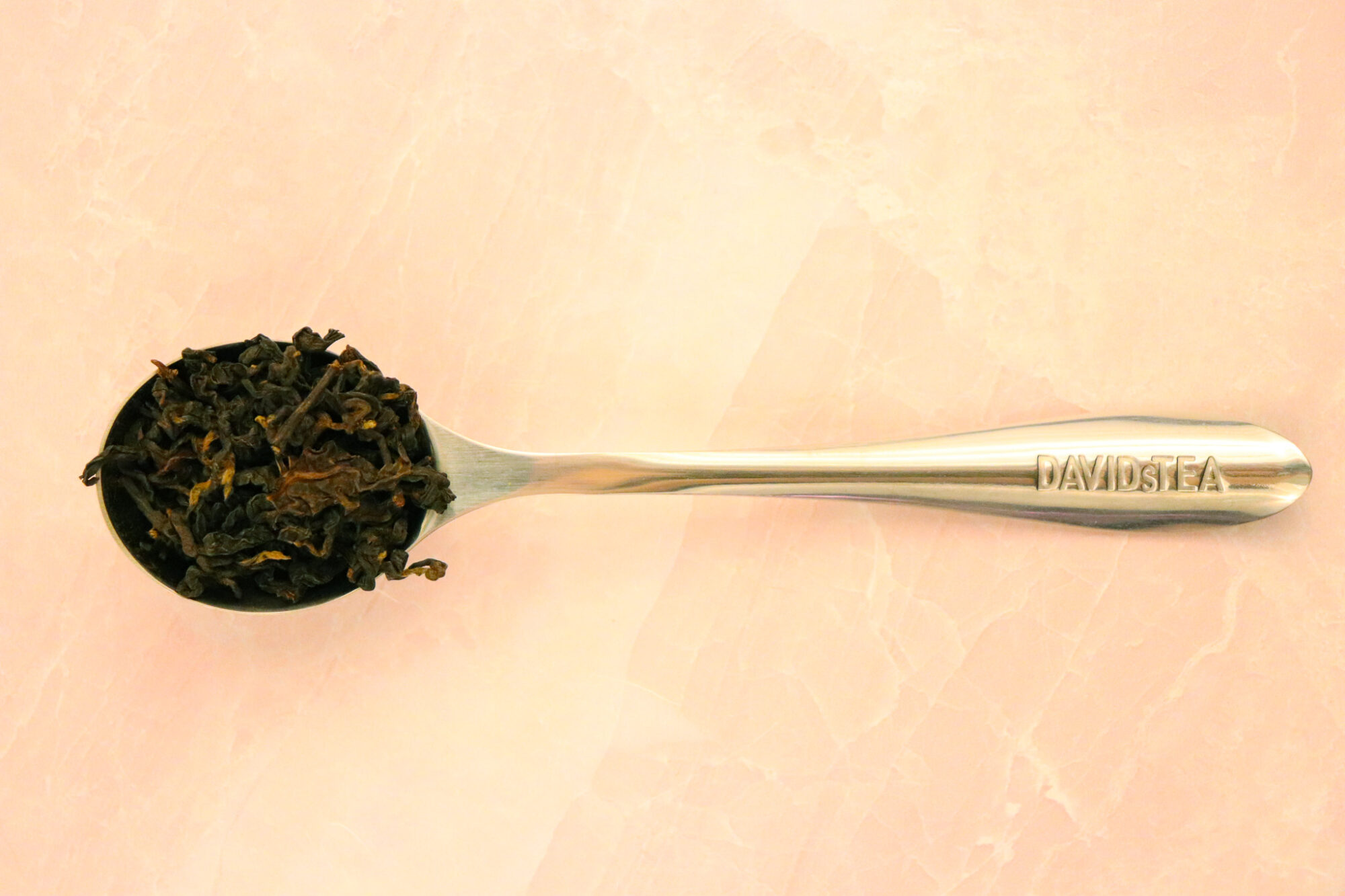 ---
Where is it from?
Honey Black comes from the Lu Ye Tea Garden, a small producer located on the east coast of Taiwan. This picturesque region is ideal for growing tea because of its abundant water sources, mild climate, and rich soil. While doing research for this post I discovered that Lu Ye is famous for its annual hot-air balloon festival. How cool would it be to fly over the tea fields with a thermos of Honey Black in hand?
---
What does it taste like?
DAVIDsTEA's Honey Black has a twisted leaf style that was very dark in color with fuzzy golden tips visible throughout. They had a noticeably sweet and earthy aroma. There were some stems, but the sample I received consisted mostly of whole leaves. I prepared this tea using the classic glass bubble teapot from DAVIDsTEA. I used the recommended water temperature of 200℉ with an infusion time of 3 minutes. It took a few infusions for the leaves to fully open up. Once they did I was able to see very even oxidation with buds connected to one to two larger leaves.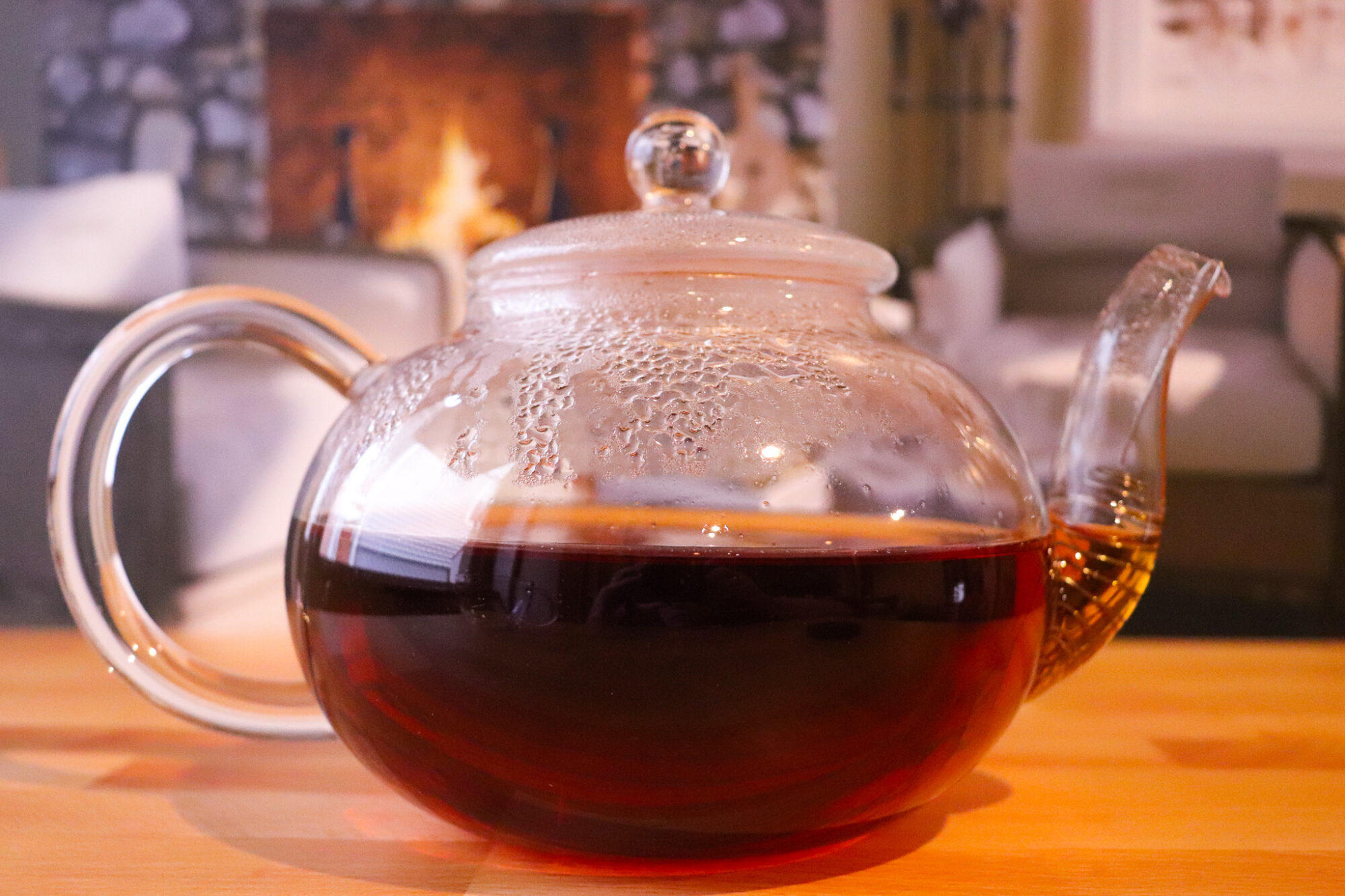 Honey Black brewed up a beautiful reddish amber color. As expected, honey was the dominant flavor note that grabbed my attention. It was a deeper and darker taste that reminded me of a buckwheat honey that I enjoyed recently. That was followed by jammy notes of red fruits and the slightest hint of rose. A pleasant sweetness lingered after each sip along with a grounding maltiness that tied it all together. The mouthfeel was smooth without any bitterness.
If I didn't already know it was black tea, I might have guessed that I had been drinking a highly oxidized oolong. It was mellow but still had a nice round body. Honey Black is the black tea for people who think they don't like black tea. I recommend drinking it on its own without any milk or sweetener so that you don't miss out on all of that complexity. Honey Black makes an excellent iced tea. If you're a fan of gongfu-style brewing, I find that it performs really well that way too.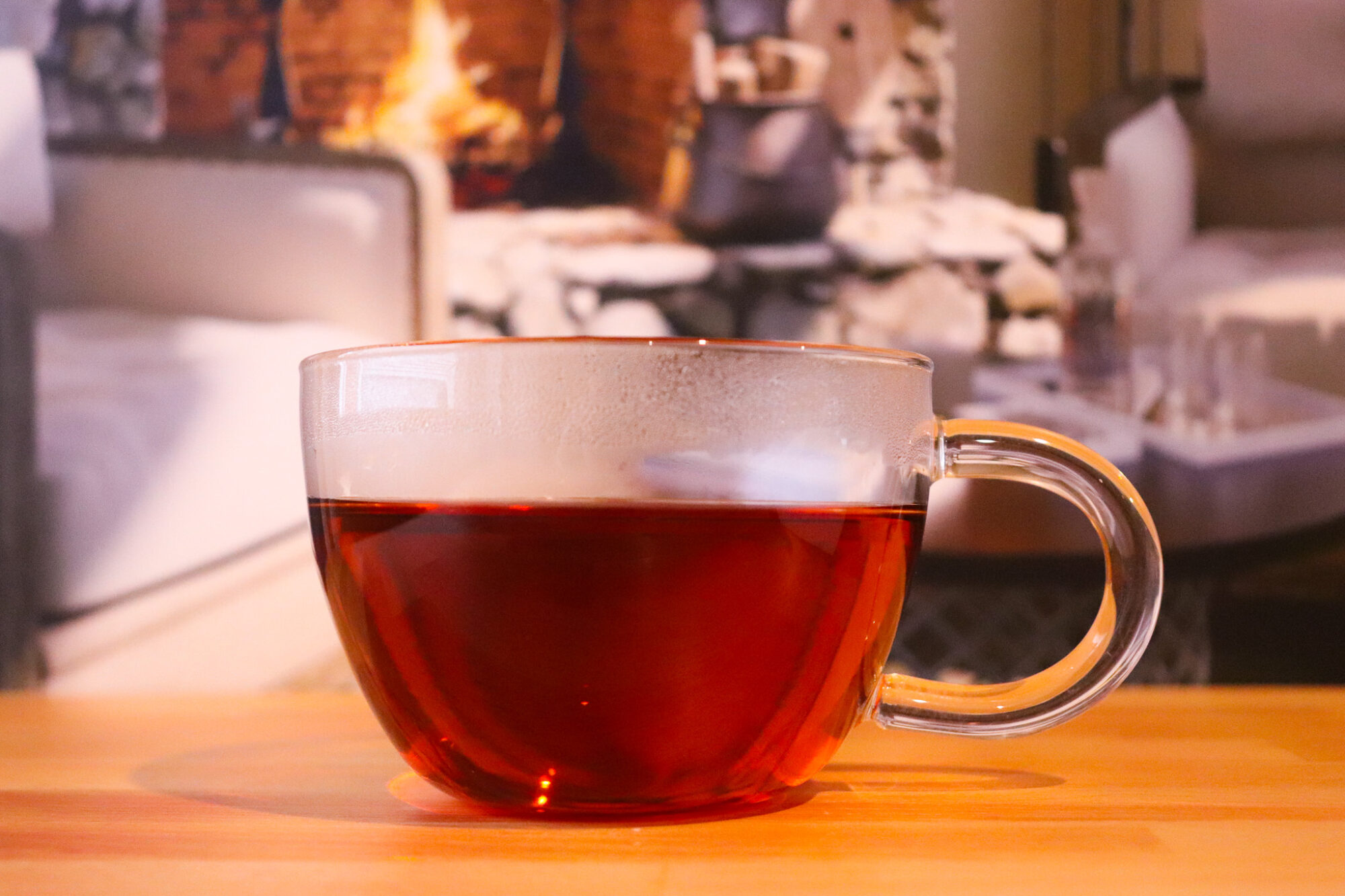 ---
Q&A with DAVIDsTEA
Q: I loved the Honey Black that DAVIDsTea offered years ago and was so bummed when it was discontinued. What made you bring it back? Is the current tea different from the previous one?
A: We brought back our beloved Honey Black because we thought it would make a great feature in our Garden to Cup collection! This dark and full-bodied black tea is a unique find from the eastern cost of Taiwan, the same location we sourced it from when it first launched. You might detect some small variances to the one from 2015, but these are due to the change in weather in the growing region from one year to another.
Q: Was it difficult to source Honey Black? How many teas did it take to find the perfect one?
A: Yes, Taiwan's black tea production is quite limited, so we were very lucky we were able to get this in our collection back in 2015! Luckily, during our search we found this gem from the Lu Ye Tea garden, which on top of having great oceanfront location has very high quality standards.
When searching for teas for our Garden to Cup collection we taste a lot of teas! It's a tough job, but someone's got to do it. All jokes aside, we're able to pull from our extensive network and find very unique teas. Sometimes we find a tea by chance, while other times it takes years to find the exact representation we're looking for.
Q: How does Jacobiasca formosana affect the flavor of bug-bitten teas like Honey Black?
A: The bite from the Jacobiasca formosana causes the leaf chemistry to change and this results in a change in flavour. Let me explain a little bit further; get ready for some nerdy tea talk! The bite sets of many bio-chemical reactions inside the leaf, that increase the production of monoterpenes and other plant chemicals like caffeine (which is tea's natural insecticide). Luckily for us, the resulting compounds produced by the plant's reaction to the bite are quite aromatic and sweet, reminiscent of ripe fruit.
Q: I was really surprised the first time I tried this tea. What has the consumer response to Honey Black been like?
A: Honey Black is definitely a hidden gem! Customers that try this tea fall instantly in love with its lingering notes of rich dark honey and undertones of jammy red fruit. It's very reminiscent of an Oriental Beauty but at a much more affordable price point.
---
I really enjoyed digging a little deeper into this tea. Have you ever tried Honey Black from DAVIDsTEA? What is your favorite tea from their Garden to Cup Collection? I'd love to hear from you in the comments below!
This post was sponsored by DAVIDsTEA. Opinions are my own.