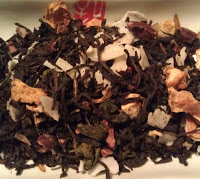 Country of Origin: not listed
Leaf Appearance:
Ingredients: Assam black tea, oolong, lemon peel, cacao nibs and coconut
Steep time: 4 minutes
Water Temperature: 195 degrees
Preparation Method: Breville One-Touch Tea Maker
Liquor: reddish brown
I always look forward to my monthly shipment from Handmade Tea and they really knocked it out of the park with September's blend. The blend of black tea and oolong was really interesting. It was earthly but with a subtle sweetness which took away a lot of the astringency of the Assam. My first few sips were all about the chocolate and coconut. It was rich and complex with a pleasant aftertaste. As it cooled, the lemon moved to the forefront. The included tasting notes summed it up as a "lemonade mouth-party". That is a pretty spot on description. I just couldn't get enough of this tea. In fact, I've been neglecting the pile of samples I have waiting to be reviewed because of it. Not only was this tea amazing but it also had the cutest label that I have ever seen. It was created by Lauren Fagan. It's probably getting annoying because I say this every time I review one of their teas, but I really do suggest subscribing. You won't find a service quite like it anywhere else.


You can subscribe to Handmade Tea here.