I have been digging deeper into Japanese teas over the last few years. Part of that journey was jump-started by reading The Story of Japanese Tea by Tyas Sōsen. Of course, I already enjoyed teas like sencha and hojicha but I don't think I realized just how complex they can be. I first became acquainted with Tyas a fellow tea blogger and then as a tea seller through his company, The Tea Crane. His commitment to artisan naturally produced teas is truly admirable.
That is why I jumped at the chance when The Tea Crane's content director reached out about collaborating on a review for their monthly tea club. All of the teas are naturally grown and sourced personally by Tyas. Most selections are special offerings that are not available anywhere else for international buyers.
What is Included?
At the time of publishing this blog post, the cost is $25 per month. You can choose to be billed monthly, for six months, or one year. Each shipment of The Tea Crane Tea Club includes:
2 teas
informational booklet with information on the teas as well as additional articles and tips
members-only tasting video with brewing and tasting tips
Multi-month subscribers also receive special gifts, including an e-book version of The Story of Japanese Tea.
My Review
This review is specifically of the May 2021 shipment of The Tea Crane Tea Club. The teas were tasted right away but my blog post queue is a bit long so it could not be published until now. Too many teas, too little time!
The informational booklet started with an introductory letter from Tyas giving a brief intro to the origins of Japanese organic tea. Both of the teas I received were from the same producer, Takatomo Katagi. It was fascinating to read the in-depth information about each of these teas, their producer, and the suggested way to brew them. There was also an article on the Katagi family's history as organic pioneers. It closed with a short guide to caring for your kyusu, something that all Japanese tea lovers can certainly appreciate.
I received 50g of sencha 30g of hojicha in this shipment. The amount received each month will likely vary with the selections. Some teas are much denser than others that it makes sense for that to be the case.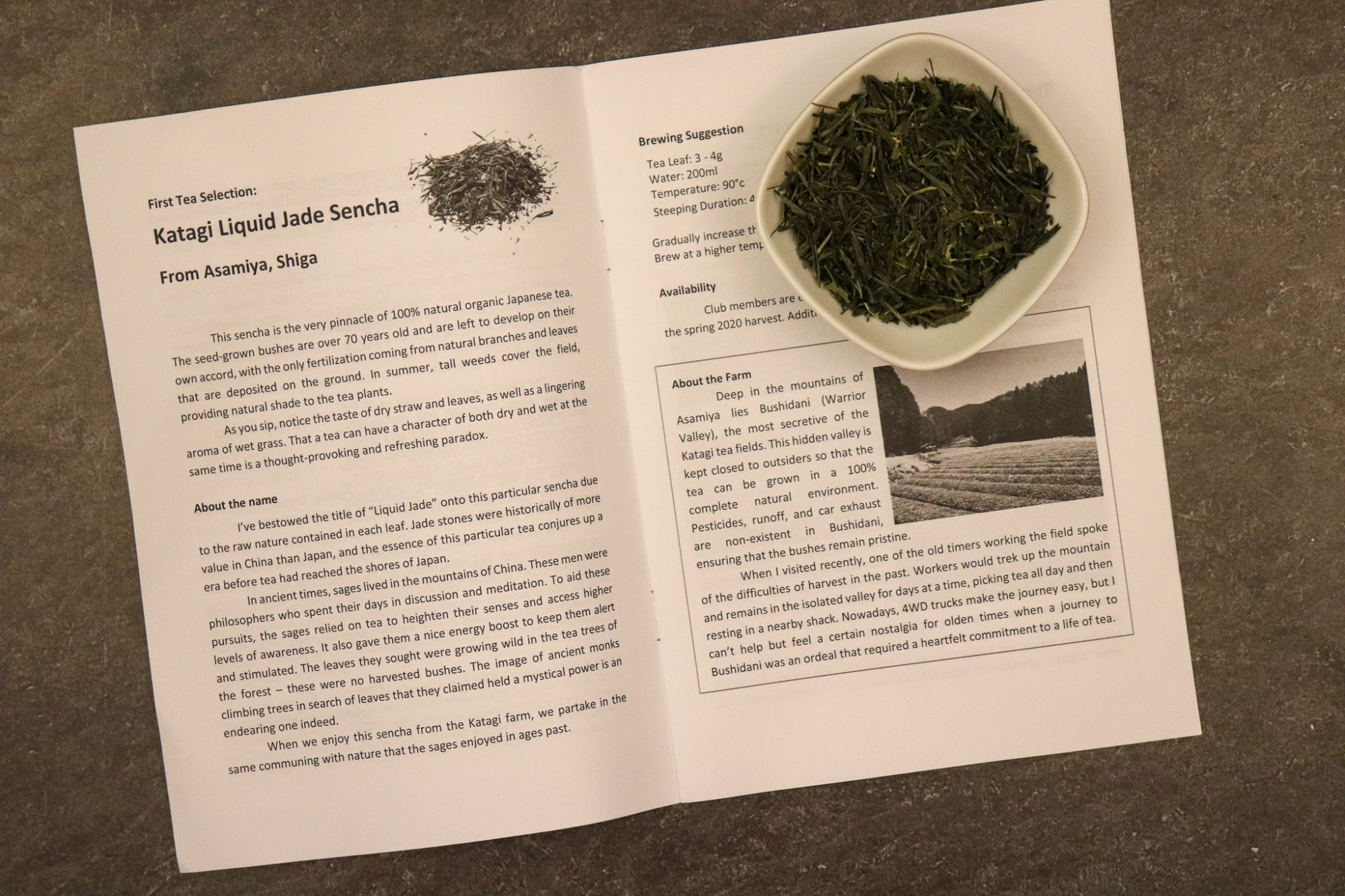 Liquid Jade Sencha no.3 – Asamiya
The dry leaves were a deep green color with the characteristic needle shape that you would expect for this type of tea. They were almost entirely unbroken and had a brilliant sheen to them. I prepared this tea in a kyusu using The Tea Crane's recommendations. My water temperature was 194℉ with a first infusion of 40 seconds. Both parameters were gradually increased for subsequent brews. It brewed up a pale greenish liquor.
The taste was clear and clean with distinct notes of dry hay. I noticed a mouthwatering effect after each sip. There was some astringency but it was not bitter at all. I don't think I could find a better description for this sencha than 'liquid jade'. There was also a faint fruitiness in the background that almost reminded me of honeydew melon. My second infusion was just as full-bodied as the first.
Asamiya Kuki Hojicha Roasted Twig Tea
Hojicha is an interesting tea because its appearance can vary quite a bit. This one was truly a stem tea as it could also be classified as kukicha. I was reminded of reeds floating on water. A large portion was hollow, making a satisfying 'plink' noise when I poured them into my kyus. I prepared this tea using The Tea Crane's recommendations of 200℉ water with a first infusion of 2 minutes. It brewed up a dark amber liquor.
The taste was super sweet and smooth. It had a citrus note that I have not experienced in a hojicha before. It was roasty and comforting without being smoky. There was no bitterness or astringency at all. This tea is a must-try for those who have not enjoyed hojicha before. Care and time were taken to produce an excellent tea rather than just roasting up refuse to increase profits. I keep wanting to drink this tea but I'm trying to save for the rest of it for when the weather gets chilly. It is the perfect thing to sip on a chilly fall night.
Thank you to The Tea Crane for letting me experience these teas! Tyas' mission to support organic farming in Japan is an admirable one and I hope that more people start to take up the torch. He also certainly has a keen palate for sourcing teas that are special yet approachable. I would absolutely recommend checking their subscription out, especially if you are looking to learn more about Japanese teas.
Have you ever tried The Tea Crane Tea Club? I'd love to hear your thoughts in the comments below!
This Tea Club was provided for review by The Tea Crane.
Addendum: I no longer recommend or support The Tea Crane. If you'd like to know why, please see this Twitter thread.
Help Support This Site
Become a Patron!