As most regular readers and social media followers will know, I love matcha…a lot. When I had some credits to use towards a purchase at Yunomi, I knew exactly what I would be picking up. A tasting set of matcha made from three different cultivars, all from the same producer in Uji? I'm in! I usually don't write about a product if it is sold out but this experience was just cool to not to share. In case you didn't know, their site has a neat feature where you can request to be notified if something you're interested comes back in stock. I definitely suggest signing up for that as well as their newsletter.
Each of the teas in this set was produced by Azuma Tea Garden, a family run operation in Uji. They were established during the Meiji era and is now being run by the fourth generation. It always amazes me to think that a family has been doing the same craft for that long. Four generations ago my family was emigrating from Ireland and they have almost nothing in common with our family of today other than our name.
Compared to other tea types, I have a bit of a hard time picking out and articulating distinct tasting notes from matcha. For that reason, I'm also including Yunomi's descriptions of each of these teas. I'll still do my best to explain my experiences, though. The lighting in my apartment is rather terrible but I did my best photograph each of the teas in an unedited and realistic way.
Okumidori
First Impressions: This tea was smooth and grassy with plenty of umami. I'd say it was a good middle of the road matcha.
Yunomi's description: Okumidori Matcha is a vivid green Uji matcha made from the tea plant cultivar okumidori. Cultivars are "cultivated varieties" identified for specific characteristics and propagated by cuttings to create a field of the same plant DNA. The okumidori cultivar is known for having a strong taste and aroma.



Yabukita
First Impressions: This tea was definitely more bitter and vegetal than the others. I was careful about using the same parameters so I don't think it was due to user error.
Yunomi's description: Identified in 1908 by Sugiyama Hikosaburo in Shizuoka, and officially registered in 1953, the yabukita cultivar is the most common tea plant cultivar in Japan with an approximately 80% share. The rich flavor of the leaves makes it popular for sencha, but it provides a weaker umami taste and is not usually used for matcha as a result.



Samidori
First Impressions: This tea was the most complex. It's character was brighter and there was a very nice lingering aftertaste.
Yunomi's description: The samidori cultivar is a tencha specific cultivar, with a bright color and rich umami flavor perfect for matcha.


I think that the Samidori might have been my favorite out of the three. It wasn't unenjoyable but the Yabukita was definitely last in the race. I usually have way too much matcha on hand so I shared these with some very excited coworkers. For future reference, drinking three consecutive bowls of usucha is probably not the best idea. I did have a ton of energy afterward, though. My fiance doesn't understand why I needed to have multiple chawans but I think this post serves as proof that sometimes it is necessary. 🙂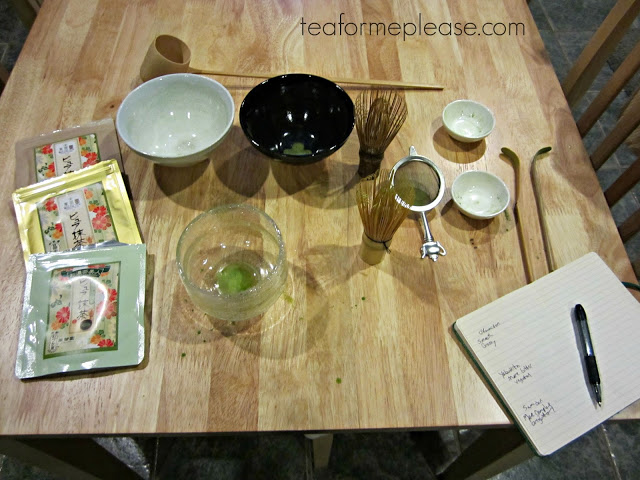 Matcha Overload – The Aftermath
Cultivar Comparison: Azuma Tea Garden Matcha – Yabukita, Okumidori, and Samidori received through credits provided by Yunomi.