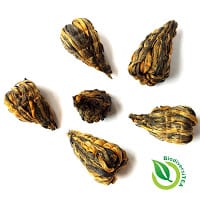 Country of Origin: China
Leaf Appearance: dark with gold tips
Ingredients: black tea
Steep time: 30 seconds
Water Temperature: 212 degrees
Preparation Method: porcelain gaiwan
Liquor: deep reddish brown
I have to admit to being a bit obsessed with this tea long before actually having the opportunity to drink it. That pagoda shape is just too cool! Being a Yunnan black tea, I knew that it would be right up my alley. Each individual pagoda was about 1.5g so I used two in my gaiwan. The taste was complex yet surprisingly light at the same time. Up front there were notes of chocolate that transitioned into a fruity sweetness that brought to mind fresh coconut. The back end had the malty, earthy yam-like quality that I've come to love in Yunnan black teas. After a few infusions the leaves began opening up and they began resembling a more typical flowering tea. The individual leaves were tied together at the base with plain white thread. Amanda Wilson said that she thought they resembled sea creatures and I think that I have to agree. A funny comment thread occurred when I shared a picture on my Facebook page because Geoffrey Norman, Chris Giddings and Rachana Rachel Carter thought that the pagoda shape resembled a mysterious creature from Star Trek. That conversation was a bit over my head but entertaining to read nonetheless.
Black Needle Pagoda Tea sample provided by Wild Tea Qi.