Thanks to COVID, I have not visited my favorite NYC tea places for quite some time. I just had to make the trip when I heard that Kettl was having a grand opening for their new flagship cafe in Brooklyn. At this location, they offer retail sales of their teas and teaware. There is a bar with seating where they serve a small selection of teas and sweets. A window at their entrance also serves as a place to order your tea and sweets to-go.
Details
Address: 70 Greenpoint Avenue
Brooklyn, NY 11222

Hours: 11:00 am to 7:00 pm daily

Website: Kettl.co

Specialty: Directly sourced Japanese teas

Food: Eat in and to-go

Unique find: House-roasted hojicha
I was not super familiar with the area since I am rarely in Brooklyn, so I actually walked right by while trying to follow Google Maps on my phone. A menu was posted outside on the outside listing all of the options that are available to-go. It was a warm day, so I was a bit sad not to get matcha soft serve.
I noticed quite a few people noticing the newest addition to the neighborhood and was happy to see that many of them seemed to at least know what matcha is. Greenpoint seems to have been the perfect place to set up shop.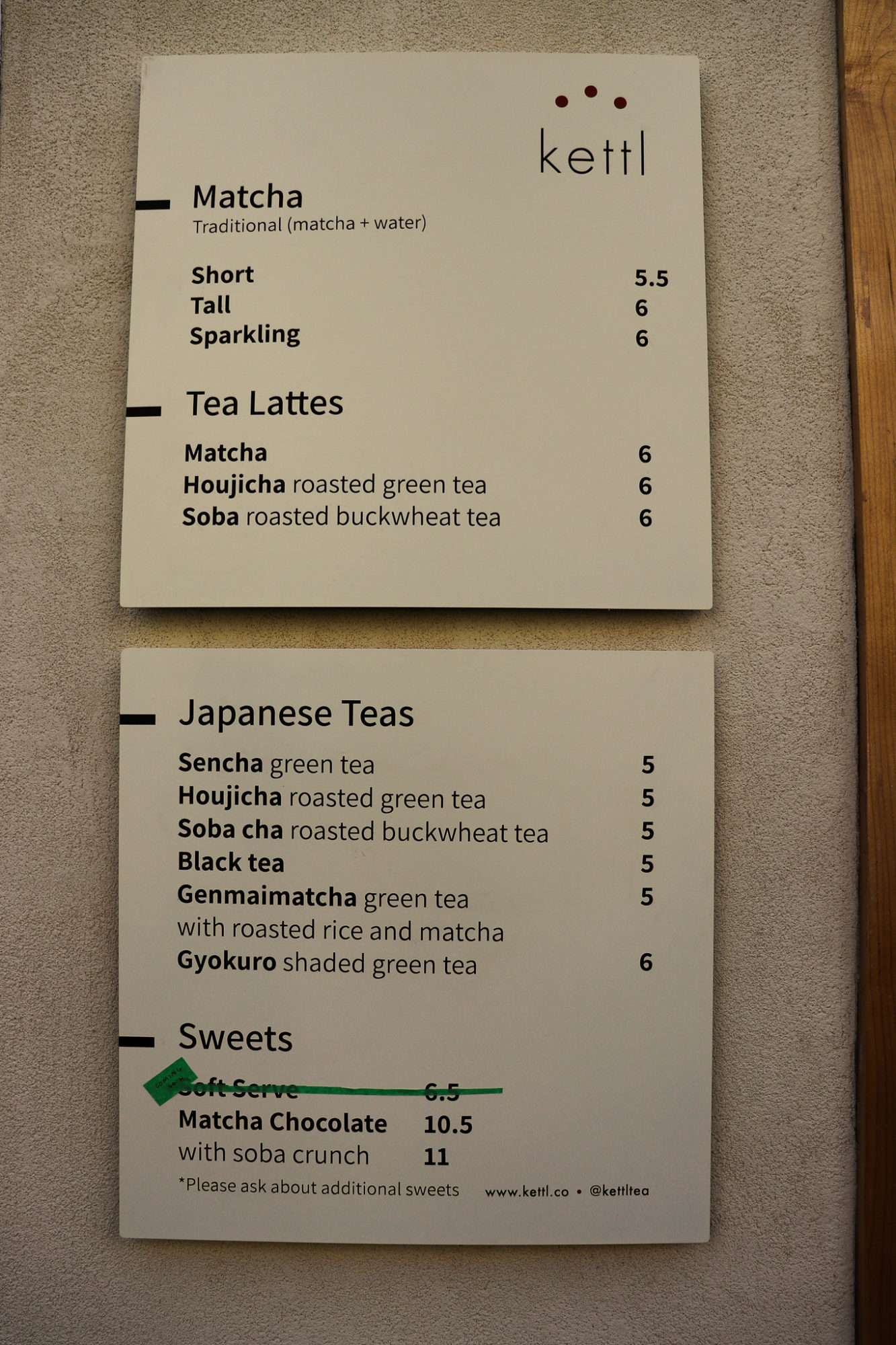 Once I stepped inside the bright and airy space, I was immediately transported to tea heaven. To my left, there was a bookcase filled with beautiful teaware and packets of tea. To the right was the small kiosk that serves the to-go window. The color palette was very neutral, but it came across as warm rather than clinical or austere. A long table with chairs sat in the middle of the room.

My eyes were immediately drawn to the stone mill industriously grinding matcha inside of its glass case. How cool is that! I was surprised by how quiet it was. It will definitely serve as quite the conversation piece for them, especially for people who are relatively new to matcha. Reading about it is one thing, but seeing the tencha turn into matcha before your eyes is another level. The house-ground matcha is available for tastings at the bar.
The far-right wall was lined with floating shelves artfully displaying even more tea and teaware. On the top shelf, I recognized the famous copper caddies made by Kaikado. I did not intend to buy tea that day, but it was very tempting to see their full line on display.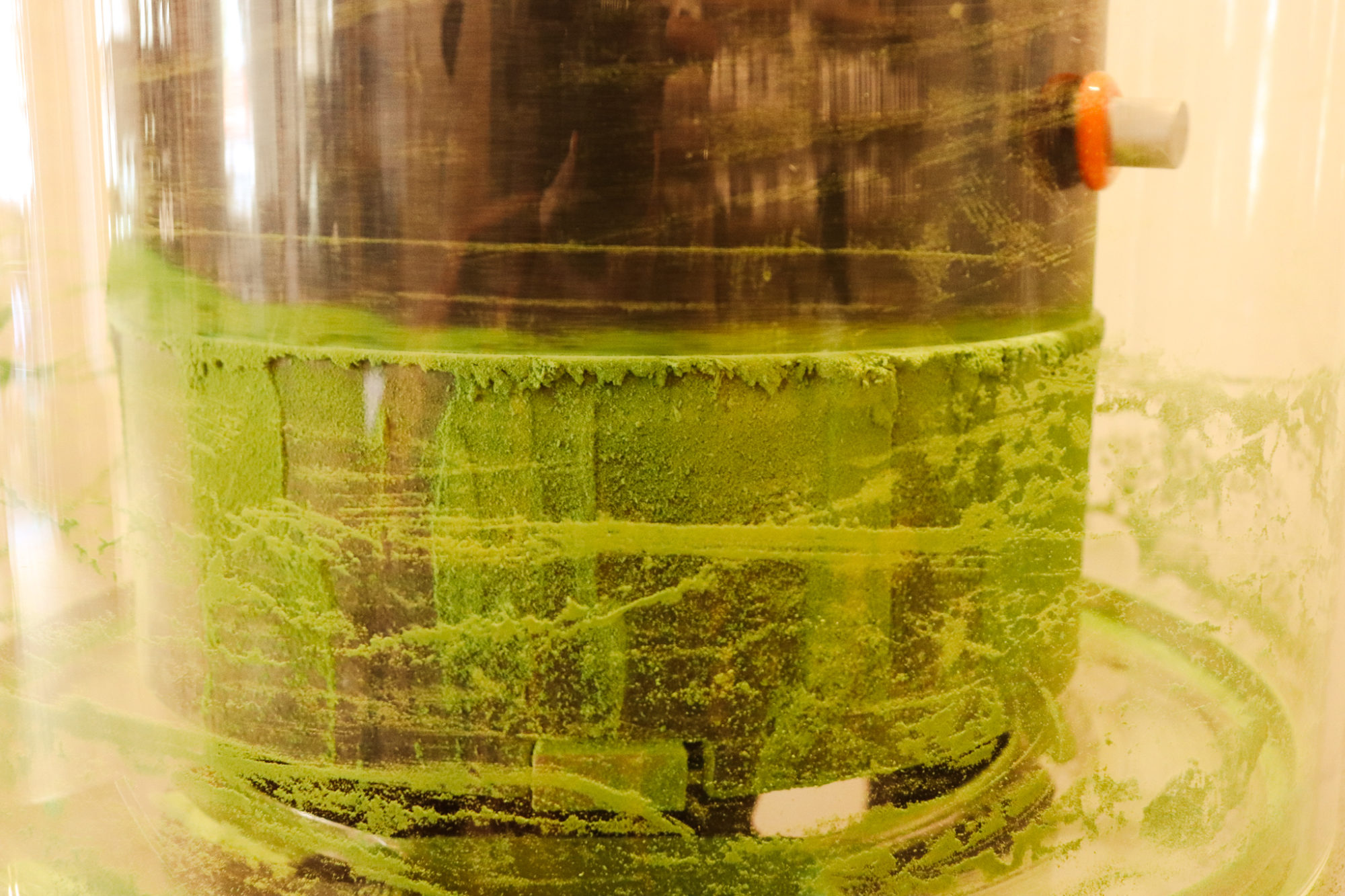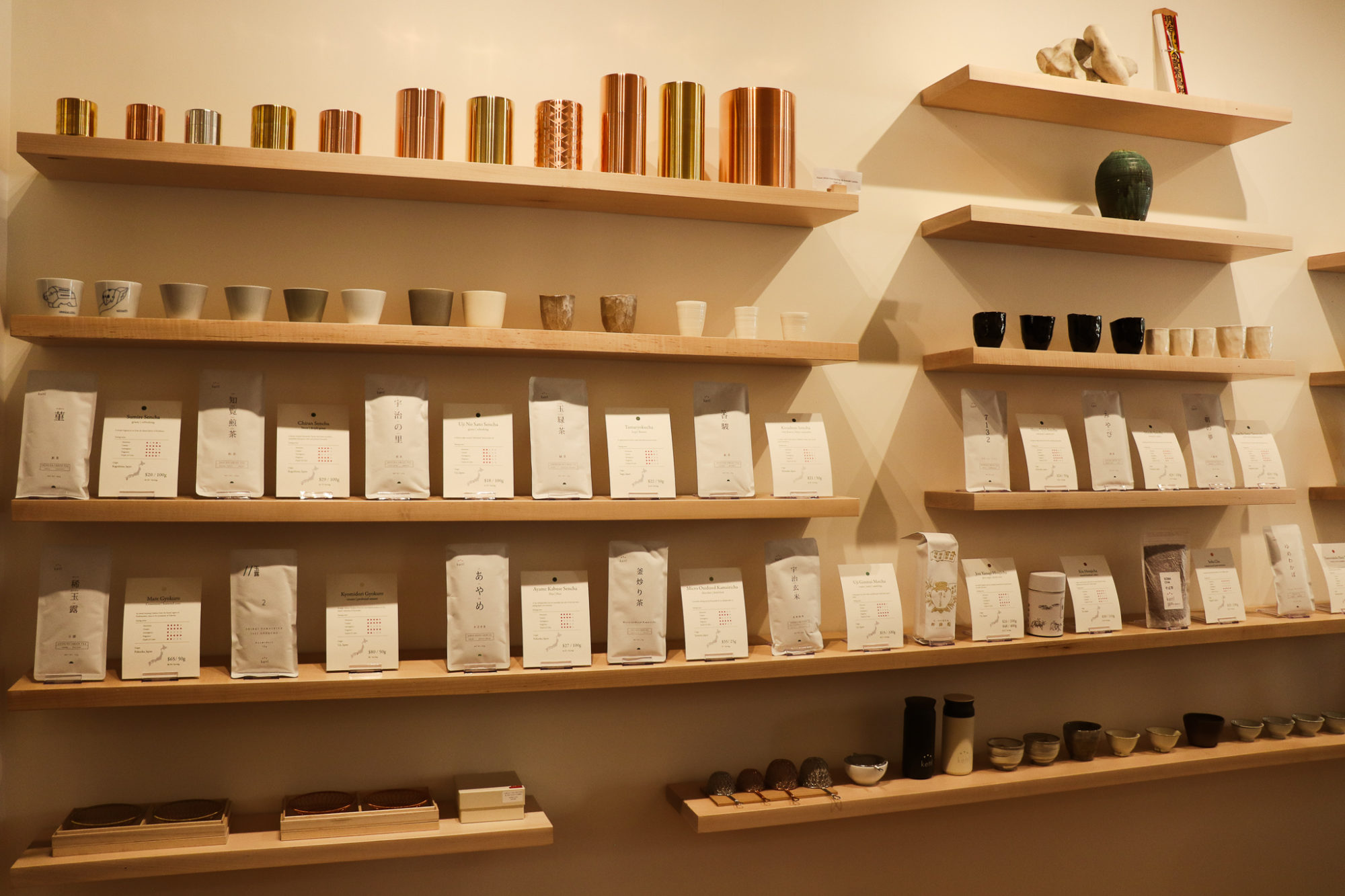 At the far back of the store was a large stone bar with stools for seating. They were fairly busy, but I was lucky enough to grab a seat. The menu was small but offered several tempting options. I had seen posts of the matcha parfait on Instagram and had to give it a try myself. It definitely did not disappoint. This decadent treat consisted of matcha gelato, graham crackers, meringue, sponge cake, black sugar gele, and mochi. There were so many textures in each bite!
Of course, I needed tea to wash it down, so I ordered iced hojicha. The tea was brewed right there in a kyusu and then carefully iced without watering it down too much. The tea was poured into a glass and served with a sidecar of extra tea in a beautiful pitcher. They made a second infusion from the same leaves once I finished my first cup. The crew behind the bar, including the owners of Kettl, was busy but friendly. They even shared a small cup of their house-roasted hojicha with me. Yet another shelf of teaware tucked into the corner, so I almost missed it. I recognized the beautiful work of Soto Ceramics on its shelves.

I am so happy that I made the trek (4 different trains!), and I definitely plan to visit again soon. This will be the perfect place to meet up with my fellow tea bloggers. Kettl also has a Manhattan location that I need to visit. I'll be sure to share here on the blog when I do.
Have you visited Kettl's new flagship store? What NYC tea spot should I go to next? Let me know in the comments below!