Tandem Tea Tasting: A Series of Seven Cups
I can hardly believe it but its been more than a year since the last time that I blogged about a Tandem Tea Tasting. For those of you that are new to the blog, a bunch of fellow tea blogger friends and I hold tastings via Google+ Hangouts since we are scattered across the country in some cases across the globe. There's always lots of laughs as well as plenty of nerding out and comparing notes. These are truly some of my favorite people in the whole world!
It was a packed house this time around with +Robert Godden (and Lady Devotea), +Jo J, +Rachana Rachel Carter, +Geoffrey Norman, +Nicole Schwartz, +Jen Piccotti, +Linda Gaylard, +Darlene Meyers-Perry and +sara shacket all in attendance.We had ambitious roster of teas to power through this time around. They were generously supplied for us by +Seven Cups Fine Chinese Teas and shipped out to everyone by +Jo J, along with her darling tea snails. Please excuse the terrible cell phone pictures as I was feeling lazy about setting up my light tent.
Golden Peacock
Although our primary goal was to taste and compare yellow teas I think that this is the one that I was most excited about. What can I say, I'm a sucker for Yunnan black tea. I think it is safe to say that this tea was a resounding favorite. +Geoffrey Norman thought it tasted like a grizzly bear that had been struck by lightening and made into an electric blanket? +Robert Godden eloquently likened it to the electric feeling in the air before a lightening storm. Maybe ozone? As add as it sounds it totally made sense for this tea. It was malty and chocolaty with a delicious smoked yam quality that I really enjoyed.
Meng Ding
The leaves of this Sichuan yellow tea were beautiful to look at so I couldn't resist using my glass gaiwan. I really enjoyed the thorough explanation of the intensive manufacturing process on Seven Cup's. The taste was herbaceous and sweet with a heavily floral finish that lingered long after each sip. It always amazed me what a difference that little bit of oxidation can cause. The perfumy aspect faded to the background after a few infusions. As much as I wanted to keep drinking, it was on to the next tea.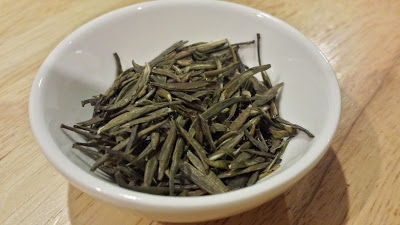 This yellow tea is from Zhejiang Province and the dry leaves differed quite a lot from the previous tea. The processing for this one sounds incredibly complex. This region is known for its green tea but I'm glad that there are still farmers like Wang Qiang Zhen that are passion the skill on to the next generation.The taste of this one was softer than the Meng Ding. It wasn't as vegetal and it still had a subtle floral quality. Most of the group much preferred it to the Meng Ding but I found that I quite enjoyed them both.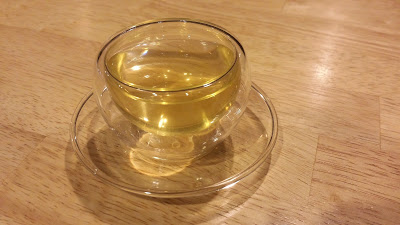 I think it's safe to say that we all stayed up past our bedtimes. I was so wired that I wound up chit chatting with
+Geoffrey Norman
until a little after 2:00am. It's been a really long time since I consumed this much tea in one sitting and it hit me a bit hard. Although I was a bit sleep deprived the next day the evening's festivities were totally worth catching up with all of my chums. I'll be sure to add the links to everyone's write ups as they are published.