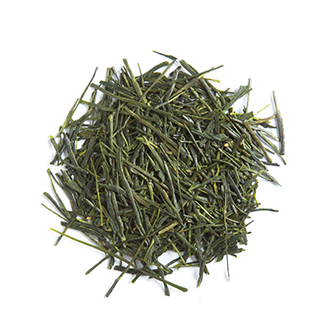 Country of Origin: Japan
Leaf Appearance: deep green, glossy
Ingredients: green tea
Steep time: 2 minutes
Water Temperature: 160 degrees
Preparation Method: kyusu
Liquor: bright green
Shincha is not a tea that I get to indulge in often, especially not one that is $115 for 3.5oz. The dry tea was beautiful to look at, needle-like with a glossy sheen. This tea is part of Palais des Thés' Grand Cru line. I love the extra depth of information that they provide in the description on their website. It's not often that you see a larger company name their farmer. A tea like this tastes very mellow at first but then the complexity unfolds after you swallow each sip. It starts out vegetal with notes of seaweed. That soon gives way to surprising hints of fruit and even a bit of creaminess. It all culminates in that indescribably savory taste known as umami. I brewed these leaves three times over (in part because I locked myself out of the house after pouring the first infusion) and they had some real staying power too. I don't think that all of those subtleties would have come out if the water temperature was not so low. Treat this one gently and you'll be rewarded.
Tawaramine Shincha Ichibana sample provided by Le Palais des Thés.