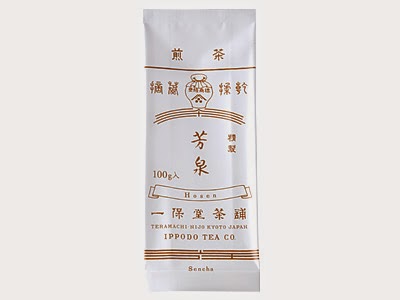 Country of Origin: Japan
Leaf Appearance: small, deep green
Ingredients: green tea
Steep time: 1 minute
Water Temperature: 175 degrees
Preparation Method: kyusu
Liquor: bright green
Back in October I reviewed Ippodo Tea Co.'s Unro Sencha (for the second time). I was eager to compare it to this one. It always amazes me just how different two teas of the same type can be. The taste was surprisingly mellow. There was a ton of natural sweetness and very little astringency. It still had the distinctive vegetal taste of a sencha but in a very gentle way. A wonderfully savory umami element snuck up on me in the aftertaste. I've just started reading Game of Thrones and I couldn't help but think of the Stark sisters. Unro is brash and headstrong like Arya while Hosen is prim and proper like Sansa. I do believe that is the first tea analogy that I've made using fictional characters yet somehow it fits (or perhaps I should stop writing tea reviews very late at night). +Danielle Pigeon from Sage and Spice recently shared her review of this tea and some beautiful photos to boot. If you are ever in the NYC area, I highly recommend checking out Ippodo's shop. It's not very big but there aren't many places when you can get expertly made koicha to go.
Hosen Sencha sample provided by Ippodo Tea Co.