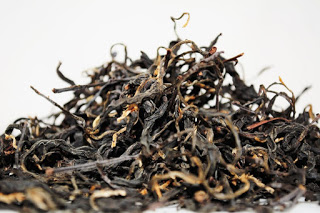 Country of Origin: Taiwan
Leaf Appearance: long, spindly with some golden buds
Ingredients: black tea
Steep time: 30 seconds
Water Temperature: 212 degrees
Preparation Method: porcelain gaiwan
Liquor: dark reddish amber
I'm a complete and total sucker for Taiwanese black teas. This one caught my attention because Golden Leaf Tea referred to it as "small leaf". Nearly all of the Taiwanese hong cha that I've tried has been made with var. Assamica but this one appears to have been made using var. Sinensis.
The name of this tea can be a bit confusing for westerners that are new to the world of tea. In most of Asia black tea is actually called red tea. This is because when you brew it, the liquor often has a reddish hue to it. This can get even more complicated because rooibos, an herb from South Africa, is often sold as red tea. Puerh tea (particularly the ripe kind) is called black tea because it brews up a very dark, inky black color.
The dry leaves were long and spindly with a few golden buds scattered here and there. While there was quite a lot of stems it's important to keep in mind that this is not always a bad thing. Stems have flavor too and sometimes it is important to the tea making process that they are left attached to the leaves.
Taiwanese black teas are interesting because although the taste could be described as mellow, they also offer a lot of complexity. This particular one was malty and sweet with notes of dark chocolate. Mild spices, something along with lines of nutmeg and cinnamon, popped up in later infusions. There was some astringency but only enough to add a pleasant briskness to the finish. I didn't push this tea too hard but I think it would be a great candidate for "grandpa style" brewing.
Golden Red Tea provided for review by Golden Tea Leaf.