Florishe is a beauty and wellness start-up company with the goal to create simplified, healthy, and sustainable beauty products that help people flourish from the inside out. Skincare might be the last thing that you would expect to see on this blog. When Florishe's founder, Hye-C Pang, reached out I took notice because their ingredient list is filled with tea.
Their Camellia Japonica flowers, Camellia Sinensis leaf water (aka brewed tea), and extracts are produced sustainably by small farms in Jeju Island and Boseong, South Korea. I really appreciate that their products do not contain paraben, phthalate, mineral oil, sulfate, petrolatum, synthetic fragrances, or sodium lauryl sulfate.
I couldn't help but grab a sejak green tea to photograph alongside all of these tea-infused skin goodies. If only the lighting in my pop up studio (aka the alleyway outside of my apartment) had been more cooperative. I think you'll still get the idea though!
Camellia Full-Blossom Serum
A lot of companies arbitrarily add tea to their products these days. What makes Florishe's Camellia Full-Blossom Serum stand out is that it contains a whopping 54.26% green tea leaf water. I have combination skin that leans towards oily but I had no issues using in place of my usual moisturizer, even on very hot days. The scent is very light and clean. It absorbed into my skin quickly and left me feeling moisturized throughout the day.
Isn't the bottle just beautiful? I've made it a point to leave it out on my vanity rather than tucking in away in a drawer. The shape is inspired by hangari, the earthenware jars traditionally used to store kimchi and other vegetables. The dispenser pump gives just the right amount of product. This stuff isn't cheap so I like that nothing is wasted.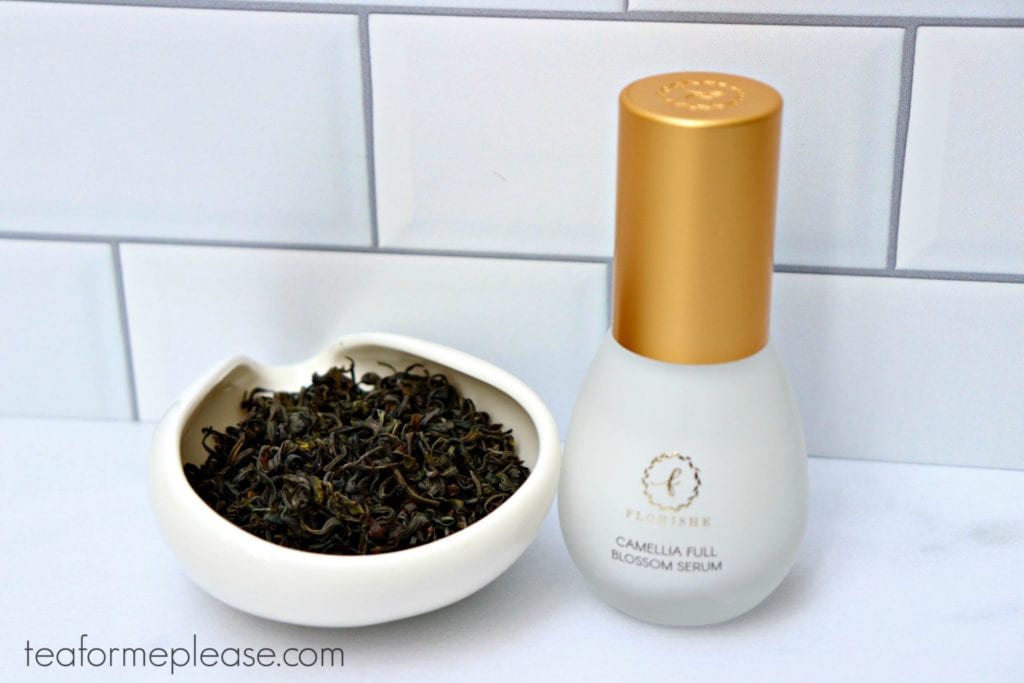 Ultra Rejuvenating Camellia Overnight Facial Treatment Mask
Sheet masks are great but they all look the same for the most part. This one stood out because Florishe included a small glass spray bottle. It arrived empty so I was a little confused at first. The directions revealed that each pouch contained enough serum to fill up the vial. That way, your skin can continue to reap the benefits long after the mask treatment was completed. I thought this was a very thoughtful touch that added a lot of value.
Although I did find the mouth and eye holes to be a bit small for my face, I really enjoyed using the overnight facial treatment mask. My face felt amazing and super hydrated the next day. The weather had been particularly hot and humid so I tucked my glass spray bottle of leftover serum into the refrigerator. What a cooling and refreshing treat, especially before bed!
Florishe has offered a discount just for Tea for Me Please readers. Use this link to receive 10% your order! You can also receive the discount by entering the promo code TEAFORMEPLEASE.
Have you ever tried Florishe? Does tea being in the ingredient list make you more likely to use something? Let me know your thoughts in the comments below!
Products provided for review by Florishe. Opinions are my own.