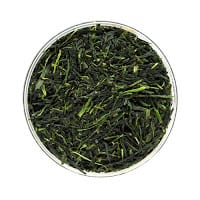 Country of Origin: Japan
Leaf Appearance: deep green, needle-like
Ingredients: green tea
Steep time: 3 minutes
Water Temperature: 165 degrees
Preparation Method: kyusu
Liquor: jade green, somewhat opaque
Gyokuro is always a rare treat for me, especially when it is from one of my favorite regions. The sample that I tried was from the 2015 harvest but I imagine that they'll be listed the 2016 crop soon. The leaves were a deep, dark green with a subtle sheen to them. My first impression before actually picking up any tasting notes was the mouth-feel. It was thick and very smooth, coating my entire mouth from the first sip to the last. The taste was delicate and sweet with a light crispness that I found very pleasant. Sometimes I hate using the word vegetal to describe green teas like this one. I feel that it has a negative connotation in people's minds (a childhood spent avoiding eating vegetables) which doesn't really do the tea justice. American Tea Room compares it as watercress but I can't say that I've ever had that before. Perhaps oceanic would be a better term? That never seems quite right either. There was a lingering sweetness that stayed with me long after finishing the last sip. One of my favorite things about a high end gyokuro like this is that the leaves are super tender after steeping. I can't resist munching them. My boyfriend teases me that this habit is similar to dogs eating grass at the park. This tea carries a pretty hefty price point so I'd really only drink it on special occasions. I still have a tiny bit left and I'm planning to save it for the first really warm day so that I can ice brew it. That my friends, will be the nectar of the gods!
You can find out more about this tea here.
{
"@context" : "http://schema.org",
"@type" : "Review",
"name" : "American Tea Room Yame Gyokuro Green Tea",
"author" : {
"@type" : "Person",
"name" : "Nicole Martin"
},
"datePublished" : "March 23rd, 2016",
"image" : "https://4.bp.blogspot.com/-caWPyg3SjTk/Vt5aPuVLeFI/AAAAAAAAMHg/lfCsuXrCAKk/s1600/LTG-YAME_V1_1024x1024.jpg",
"itemReviewed" : "American Tea Room Yame Gyokuro Green Tea",
"reviewBody" : "Gyokuro is always a rare treat for me, especially when it is from one of my favorite regions. The sample that I tried was from the 2015 harvest but I imagine that they'll be listed the 2016 crop soon. The leaves were a deep, dark green with a subtle sheen to them. My first impression before actually picking up any tasting notes was the mouth-feel. It was thick and very smooth, coating my entire mouth from the first sip to the last. The taste was delicate and sweet with a light crispness that I found very pleasant. Sometimes I hate using the word vegetal to describe green teas like this one. I feel that it has a negative connotation in people's minds (a childhood spent avoiding eating vegetables) which doesn't really do the tea justice. American Tea Room compares it as watercress but I can't say that I've ever had that before. Perhaps oceanic would be a better term? That never seems quite right either. There was a lingering sweetness that stayed with me long after finishing the last sip. One of my favorite things about a high end gyokuro like this is that the leaves are super tender after steeping. I can't resist munching them. My boyfriend teases me that this habit is similar to dogs eating grass at the park. This tea carries a pretty hefty price point so I'd really only drink it on special occasions. I still have a tiny bit left and I'm planning to save it for the first really warm day so that I can ice brew it. That my friends, will be the nectar of the gods!",
"url" : "http://www.teaformeplease.com/2016/03/american-tea-room-yame-gyokuro-green-tea.html" : {
"@type" : "Organization",
"name" : "Tea for Me Please"
}
}