Adagio Teas Wenshan Mist Green
Country of Origin: China
Leaf Appearance: fairly dark for a green tea, somewhat broken
Steep time: 30 seconds
Water Temperature: 180 degrees
Preparation Method: glass gaiwan
Liquor: bright gold
Wenshan Mist is a Mao Feng style green tea from Yunnan Province. Puerh and black teas from this region are very popular but you rarely hear about their green teas. That was why I choose to order a sample of this with a gift certificate that I had. I'm also always on the lookout for unflavored teas that Adagio adds to their catalog.
Leaf
The dry leaf was fairly dark for a green tea. They were noticeably curly and twisted without much uniformity. Mao Feng is commonly associated with the famous green tea from Huang Shan in Anhui. The name is actually a grading term that literally translates as "downy tip".
When it comes to Chinese greens, I almost always prefer to prepare them using a glass gaiwan. Part of this is because I love to watch the leaves but it also gives me more control over the brewing process. I also enjoyed this tea brewed in a more western style but still enjoyed the gongfu version more.
Liquor
This tea brewed up a bright gold color with good clarity. The taste was smooth with very little bitterness or astringency. It was floral and sweet yet slightly smoky at the same time. That added a savory aspect to its character that I really enjoyed.
Later infusions had notes of grape that brought to mind first flush Darjeeling. Although complex, it was a lighter bodied tea with a refreshing and clean finish. Wenshan Mist would be an excellent choice for those that are not fans of grassy green teas. It leans much more on the earthy side.
The leaves were visibly broken once unfurled and there were not any tender buds. This could indicate that it was harvested later in the year. Don't let that turn you off though. It is still a solid and fairly affordable green tea. I have a feeling that it would be really excellent when served iced too.
Have you ever tried this tea? I'd love to hear about it in the comments below!
This tea was provided for review by Adagio Teas
---
Other Green Teas I've Reviewed from Adagio
Adagio Teas White Monkey Tea
Despite it's name, this is actually a green tea. The dry leaves were super curly and there was a ton of silvery buds. The taste was very light and delicate, more similar to a white tea than most Chinese greens that I've experienced.
Continue Reading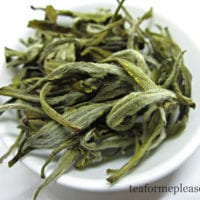 Adagio Teas Snowbud
When I had the opportunity to review some samples from Adagio Teas, I really dug through their website to find some cool stuff. The description of this one being their lightest white tea automatically made me add it to my cart.
Continue Reading
Adagio Teas Anhui Emerald Seed
Emerald Seed, also known as Gua Pian, is usually found on most lists of the famous teas of China. The processing is a bit different than what you might expect. It is one of the only green teas where secondary leaves are used rather buds.
Continue Reading
---