I've just returned from my honeymoon to Savannah, GA and I was pleasantly surprised at how much tea I found while I was there. My husband and I both definitely drank enough sweet tea to give us diabetes but there was also plenty of unsweetened hot tea to be had as well. In this post, I'll list all of the places that I tea'd during our trip.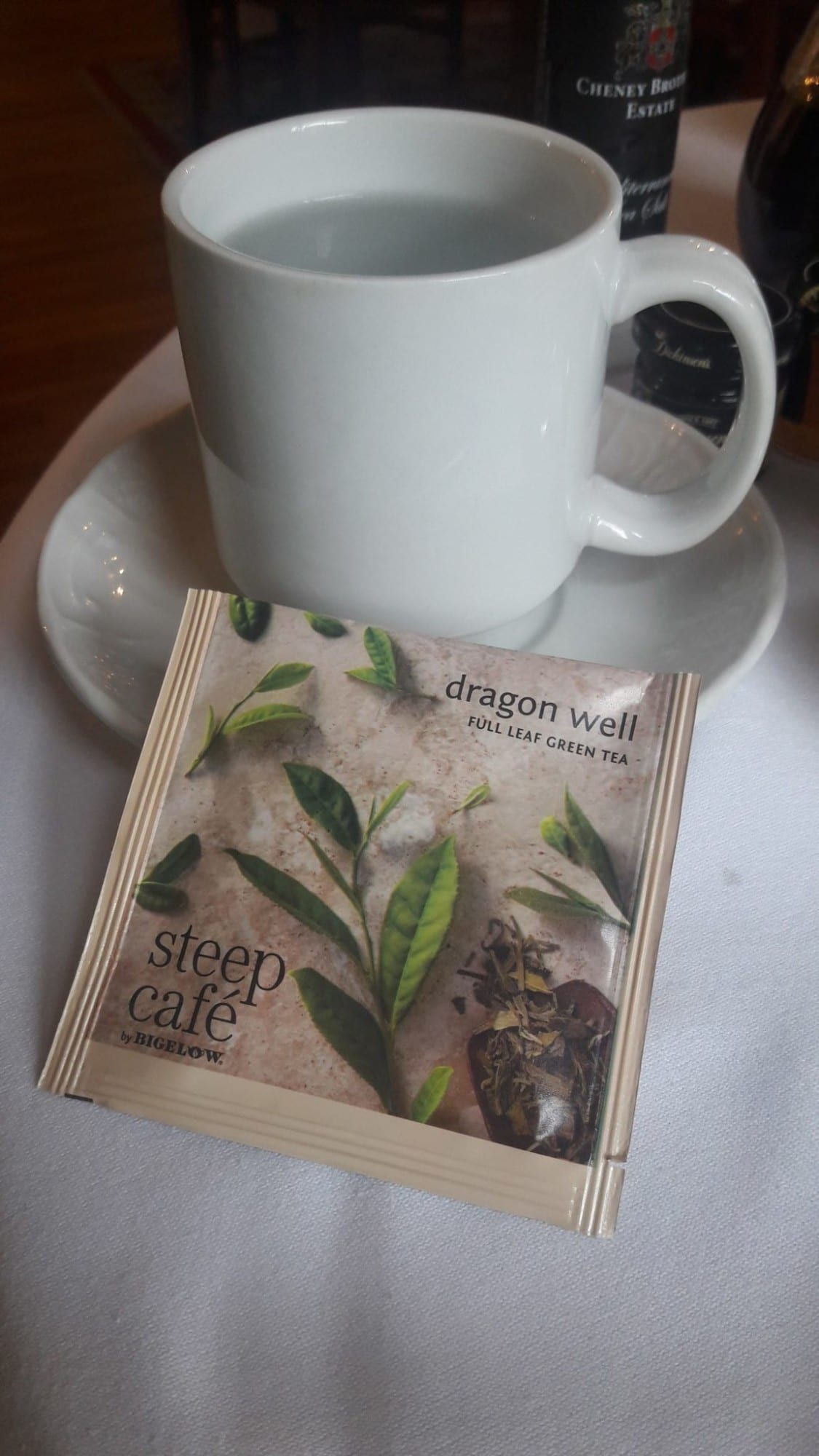 The Gastonian
We stayed at a beautiful historic inn called The Gastonian. A delicious breakfast was served each morning and much to my surprise, they served Steep by Bigelow. This is a step above their usual grocery store fare and not something I have tried before. I was elated to see a pyramid bag of Dragonwell calling my name. Cue the usual eye roll from my husband (who really should expect such things by this point in our relationship).
Over the course of our stay I also enjoyed a cup of jasmine green tea as well as earl grey. A tea kettle is always kept at the ready in the dining room so I was also able to brew some tea that I had brought with me for the trip. The weather was a bit chillier than I had hoped for so it was a welcome comfort to be able to warm up with tea.
I really cannot recommend this hotel enough for anyone who is looking to visit Savannah. The hospitality and service was unlike anything that I have ever experienced. It is located just a few blocks away from Forsyth Park and we found it quite walkable from the rest of the historic district.
The Grey
I had a number of restaurants on my "must do" list and The Grey was near the top. This trendy fine dining restaurant is located inside of a refurbished Greyhound Bus station. We definitely should have made reservations because it was hopping, even on a rainy Tuesday night. While we waited to be seated we sat at the bar and enjoyed a cocktail. I couldn't help but order the "Tea Horse Road" which was a bit of a twist on a boozy Arnold Palmer.
They only offered three teas on their menu but when I saw that one of them was called Ancient Golden Yunnan, I just had to order. I was craving a chocolate pot de creme for dessert and they were the perfect combination. The loose leaf tea was served in a teapot with an infuser basket. No instruction was offered but this is a tea that is hard to mess up. I didn't want it to be too tannic so I removed the basket after three minutes.
I'm 99% sure that the tea they served was from Rishi as it tasted familiar to me. Hopefully this means that The Grey will be expanding their tea offering the future. I think it would be a wonderful compliment to their taste focused menu


Gryphon
I was able to convince Jason to go to afternoon tea since Gryphon offered more than just petite sandwiches. This cafe is run by the Savannah College of Art and Design, affectionately shorted to SCAD by just about everyone we spoke to in Savannah. The whole place is decked out like a sumptuous library, including wall to wall mahogany bookcases. What could go better with tea than shelves of vintage books? Jason ordered his usual chai latte and very much enjoyed the peppered pork tenderloin medallions. I was excited to order afternoon tea since I couldn't even remember the last time that I had a full tea service.
My Darjeeling was served with the leaves loose in a large ceramic teapot. While I prefer to be able to remove the leaves to prevent oversteeping, I drank through it quickly enough that this wasn't too much of an issue. A strainer was provided to place over my cup. The first tray featured chicken salad and cucumber sandwiches followed by Devonshire cream, strawberry preserves, a scone, and fresh fruit. Deserts included a mini lemon meringue, apricot tart, and chocolate truffles. Jason was a bit jealous of all of my sweets and dubbed it the "tower of power".
I will say that while the service was prompt, all of the staff seemed a bit harried and were not really engaged with their customers. Ours even walked away while we were in the middle of a sentence. Finals coming up soon likely had something to do with that as many of them are SCAD students.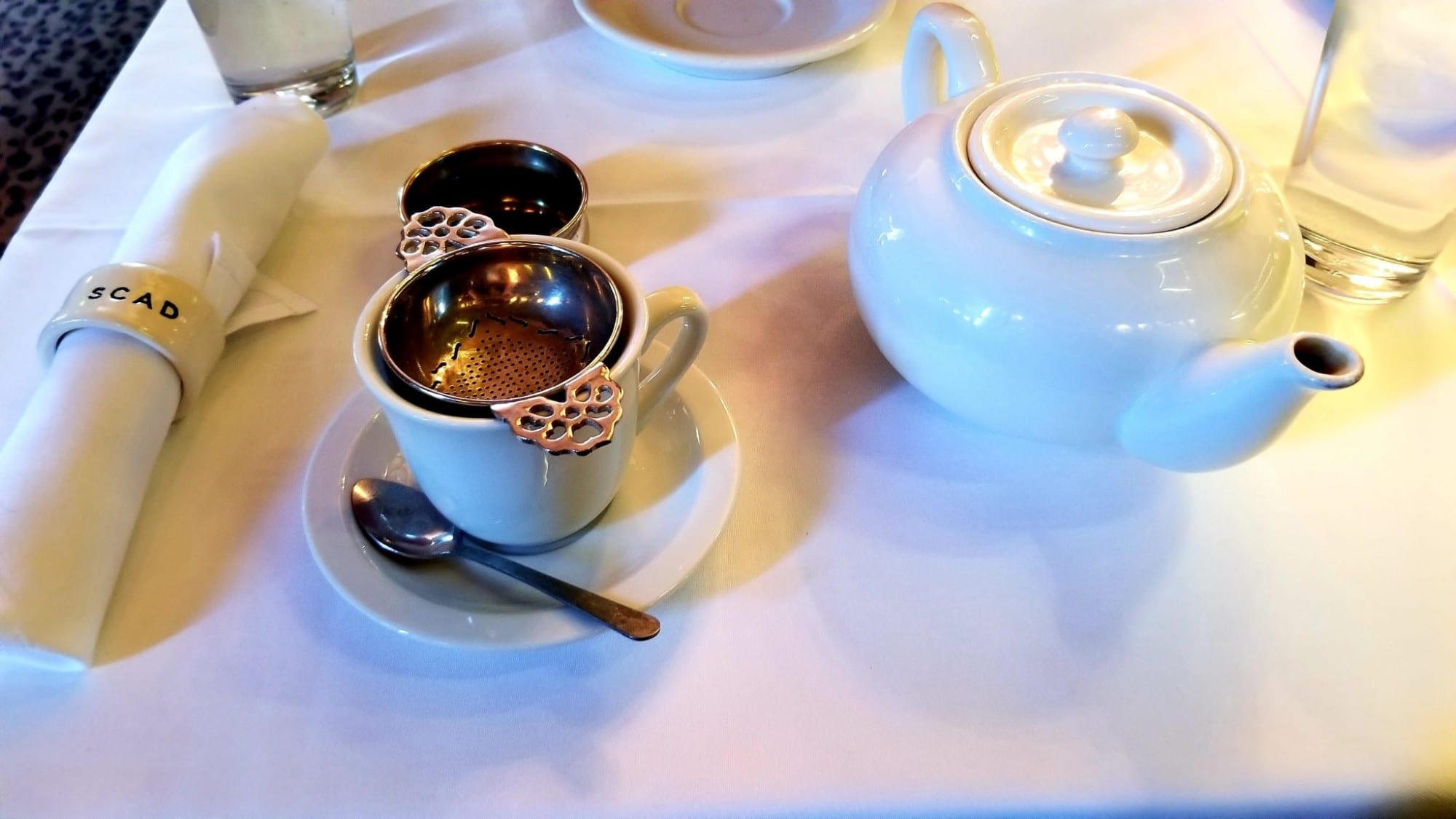 The Tea Room
We found The Tea Room just a few blocks away from Gryphon. It shares a building with E Shaver Booksellers which basically makes it a tea lover's dream. They even have store cats wandering about! I wound up wondering through there a bit longer than expected and definitely would have smooshed all of the kitties if my asthma hadn't already been kicking my butt this trip. The tea store was small but had adorable displays and sweet, welcoming staff members. They jokingly told my husband that the next step in teaware collecting was for me to open my own place. I did not get a chance to partake in their teas this time around but I couldn't resist picking up a beautiful vintage lusterware cup. If there had been more room in the luggage I would have brought home much more than that.


Have you ever had tea in Savannah? We definitely plan to go back for our anniversary next year. Let me know in the comments below if there is somewhere that I missed!