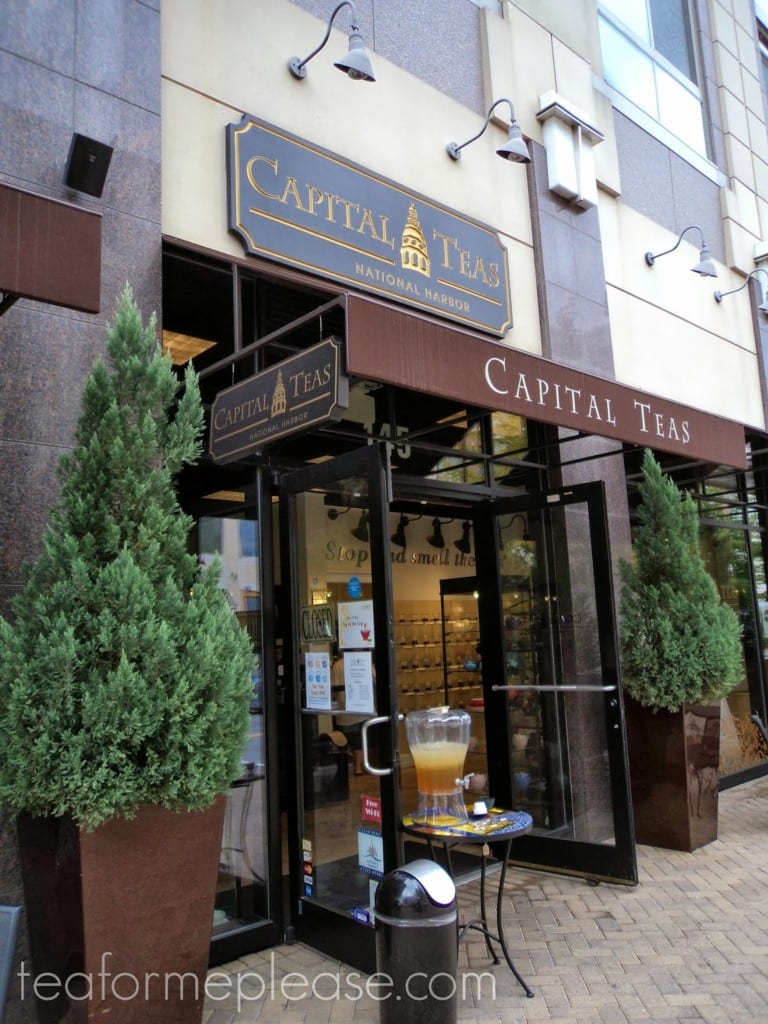 Capital Teas has been on my wish list for a while and I had a chance to stop by their Nation Harbor location in Oxon Hill, MD this past weekend. I passed this location on the way to an event at the harbor so it was a bit of a happy accident for a tea nerd like me. The storefront was very inviting with wide-open doors and a sampling station serving up their Calming Tea. I was joined by my boyfriend and two semi-tea curious friends who graciously let me take my time exploring the shop. Although somewhat small, it was well laid out and did not feel cramped at all. The staff was friendly and energetic without being pushy. We were offered samples of a tasty pumpkin chai rooibos almost immediately.
The teas were displayed in a wall of glass jars where guests are invited to sniff to their heart's content. This can be a great way to tell if you would enjoy a tea but an overzealous sniffer could easily overload their senses. It was interesting watching the reactions of Jason and my friends to certain teas and they all had lots of questions for me. Herbal blends were displayed in a separate room which made it easy for newbies to navigate. Their teaware displays were very tempting, especially the reasonably priced yixing teapots and cups. There were quite a few pieces that would have followed me home if there were room in the vacation budget and on my teaware shelves.
I did bring home two ounces of their Capital Breakfast Organic and will be posting the review of it in due course. The warm day left me a bit parched so I also indulged in a cup of their Darjeeling TGFOP Organic on the rocks. Its naturally fruity and sweet flavor was just the pick me up I needed.
You can find out more about Capital Teas here.