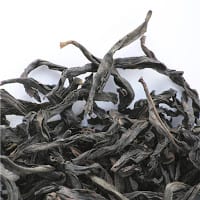 Country of Origin: China
Leaf Appearance: large, dark and somewhat curled
Ingredients: oolong tea
Steep time: ranging from 6-60 seconds
Water Temperature: 212 degrees
Preparation Method: porcelain gaiwan
Liquor: dark amber
This tea came to me in a round about way as they often do. +Geoffrey Norman wrote about it first and I was green with oolong envy. That was when +Tony Gebely let me know that he had actually already sent an email introduction between Jeff from Four Seasons Tea and myself. Somehow it went to old address but we were able to get that all sorted out. At first glance it looks like this tea is exorbitantly pricey but it's probably about as close as any of us outside of China could ever get to the "original" mother trees. I've said it before and I'll say it again, truly good tea is worth paying for! The aroma of the dry leaves was intoxicating. We're talking nose fully in the gaiwan kind of good. Following their brewing directions, I was surprised at how dark the liquor was after just six seconds. The taste was everything that I love about yancha but with something extra that I had a hard time describing. A mineral and slightly toasty background gave way to sweet floral notes. It lingered my palate for a deliciously long time. I had to run a few errands after this tea session and found myself still enjoying the aromas long after I had finished my last sip. I've been quoted (by Sir Geoffrey Norman) as describing Wuyi oolongs as "cliffy". This one took that aspect to a whole other level. I couldn't help but think of wet river rocks. It was nothing like the yucky, slimy ones we have here in NJ. Childhood summers spent splashing in a rather clean section of the Shenandoah River were what came to mind. Cliff teas are not always known for giving up lots of infusions but I got the full recommend eleven steeps out of this one. I highly recommend giving this one a try, even if that means just picking up a single 8g pack.
Mu Ben Da Hong Pao sample provided by Four Seasons Tea.