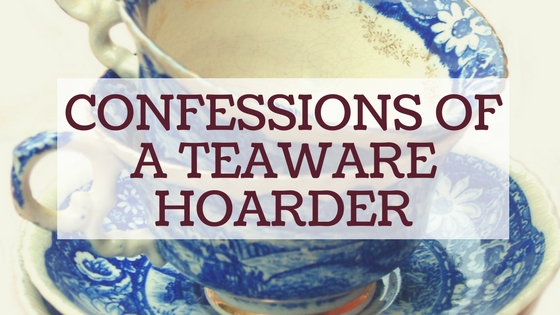 When starting any hobby I find that we all tend to indiscriminately collect anything and everything related to our new passion. I've been through this phase in the past with other hobbies (such as collecting Breyer model horses when I was young) but nothing could have prepared me for the overwhelming miasma of stuff that the tea world has to offer. Teapots, teacups, gaiwans, books, and gadgets; if it was related to tea I just had to have it.

After a while, I actually ran out of room to store and display everything. A normal person might have said, "Enough is enough.". I, on the other hand, went to Target and simply bought a larger bookcase. This continued on for several years. While working in NYC I constantly perused thrift stores and local tea shops for my next prize. Combing through local Asian grocery stores was also a favorite activity.
It wasn't until it came time to move in with my boyfriend (and now fiance) that I realized just how much stuff I had accumulated. Jason knew I was into tea but I don't think he was at all prepared for it to invade his person space just yet. When it came time to set up the bookcase in our new apartment, I just couldn't bring myself to reassemble the cluttered mess that was my teaware collection. Anything that had not been used within the last six months was either given away or donated.
I do believe that part of this change had something to with my evolving preferences. When I first started drinking tea, large teapots and infuser baskets were my go-to tools. Nowadays gongfu is my method more often than not. Not only are these pieces are significantly smaller as well as harder to find. They also really need to be suited to the preferences of the individual brewer.
My passion for tea remains as fervent as ever but I'm much more selective about what I purchase these days. I find that I enjoy my collection much more because of this new policy. Everything looks a lot nicer in my apartment to boot! You know what they say, a Petr Novak in the hand is worth two cruddy teapots in the bush.

My revised collection, minus a few pieces that were in use at the time
Are you a teaware hoarder? Have you changed the way that you purchase tea things over time? Tell me all about it in the comments!

This amended article originally appeared in the July 2016 issue of Tea for Me Please Quarterly. Sign up using the form below to receive informative tea articles four times a year.
Sign up for my free quarterly tea journal!