2015 Holiday Gift Guide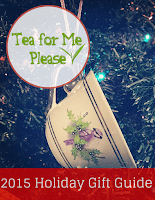 It's that time of year again. I've put together a holiday gift guide that any tea lover would adore. It's chock full of my favorite things and it's being offered exclusively to subscribers of my email list. Just use the form below to sign up. Once you confirm your email address you'll receive a final welcome email with the links for your free download.
Already a subscriber? No worries, your copy should be waiting in your inbox right now. Happy holidays everyone!