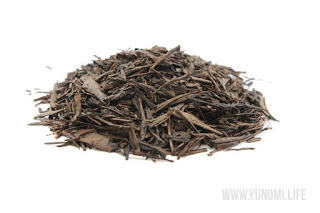 Country of Origin: Japan
Leaf Appearance: dark, twig-like
Ingredients: roasted green tea
Steep time: 1 minute
Water Temperature: 195 degrees
Preparation Method: kyusu
Liquor: dark amber
Although it doesn't look much like it, hojicha is actually a green tea. Due to the roasting process it is very low in caffeine. In Japan it is often given to babies and the elderly for this reason. Hojicha is not often my go to but on a rainy day this offering from Yunomi really hit the spot. I was excited to see that it was from Kyoto Obubu Tea Farms, home of the famously wacky Aki-san. It was included as a sample with a recent order and although I probably never would have ordered it for myself but I have to say that I really enjoyed it. The taste was woody and sweet with just a slight hint of smoke. At first I had a hard time putting my finger on exactly what I was tasting and then hit me. Maple syrup! Talk about autumn in a cup. I could imagine few teas more perfect for the time of year when there's just a hint of chill in the air (even if the day I drank it was more like an unusually warm spring day). This is probably the most complex flavor profile that I've ever gotten from hojicha. Even though it wasn't a heavily bodied tea I was still able to get three very tasty infusions out of one kyusu. There wasn't any astringency to speak of, even when pushing the water temperature or steeping time. I picked up some really cool things on this order, like a smoked black tea, as well as restocked things like sakura blossoms. I couldn't resist also indulging in matcha Oreos and Kit Kats. The treats are long gone but I'll be sharing the teas with you all in the coming weeks. Do you have a favorite tea from Yunomi? Let me know about it in the comments!
Obubu #12: Hojicha (Dark Roast) sample received with order from Yunomi.