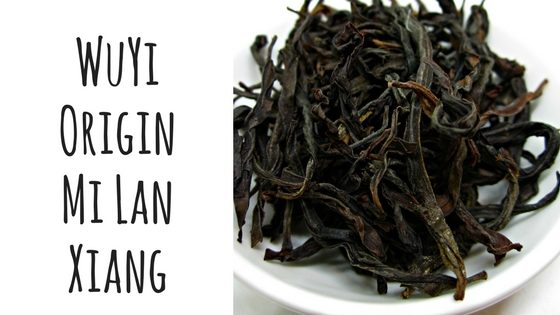 Country of Origin: China
Leaf Appearance: dark, long and slightly twisted
Steep time: 30 seconds
Water Temperature: 212 degrees
Preparation Method: porcelain gaiwan
Liquor: deep gold
There are some pretty cool things about being a tea blogger. Finding random boxes of mystery tea on my doorstep definitely takes the cake. I was lucky enough to have such a box arrive from WuyiOrigin, operated by the well-known tea producer Cindy Chen. I first made the acquaintance of Cindy when tea friend Eric Scott from Tea Geek mentioned how much he enjoyed the beautiful photos she shared of the Wuyi mountains. She and her husband Mr. Zhou both come from tea families and they only sell teas that their family processes.

I'm sure it has been mentioned before but I have a major soft spot for dancong, aka phoenix, oolongs. Huang Zhi Xiang was the first tea that I really fell in love with. It led me down a rabbit hole that I am incredibly happy to still be diving deep into. There are hundreds of different aromas assigned to this type of tea but the most commonly available one is probably Mi Lan Xiang. I often recommend it to beginners as a starting point to educating their palate and discovering what the tea world has to offer.
Even before taking my first sip of this tea I found myself inhaling deeply from both from the bag the tea came in and my gaiwan after the liquor had been poured out. The same sweet, floral aroma that drew me in was reflected in the cup. Mi Lan Xiang means honey orchid fragrance and I would be hard-pressed to come up with a better descriptor. I've had other examples with a more dominant honey note but this one was very well balanced, exactly how I prefer it. There was a strong feeling of hui gan, or returning sweetness, in the back of my throat after each sip.
Be prepared for a long session because these leaves keep giving. I honestly have no idea how many infusions I drank of this tea. They were all delicious though. If you've never tried phoenix oolongs, I highly recommend checking out what WuyiOrigin has to offer. You simply cannot do better than going directly the source.
Mi Lan Xiang sample provided by WuYi Origin.