The educational conference at World Tea Expo is something I always look forward to attending. As someone trying to make my way in the world of tea, the search for knowledge never ends. Having the opportunity to learn from so many voices in different fields is invaluable. I couldn't make every session on my to-do list, mostly due to scheduling conflicts, but the ones that I was able to attend were fantastic. This also my very first year speaking on my own. Talk about nerve wracking! I'll save all of that stuff for the end.
Re-evaluating Tea Education
The first thing on my WTE agenda was a panel helmed by
+Jo J
. I don't think she could have chosen a better group of people to discuss a hot-button issue. James Norwood Pratt, Austin Hodge, Kevin Gascoyne and
+Darlene Meyers Perry
each offered their perspectives on some very thought provoking questions. The validity of the many certification programs was called in question. Although some in the audience seemed to take this personally I think these comments were meant to spark a much-needed conversation, not to denigrate anyone. The industry seems to be coming to a crossroads and what happens in the coming years will determine where we go in the future.
+Geoffrey Norman
furiously typed quotes on our phones and there were quite a few gems.
"The harder it is to describe the taste, the better a tea is." – James Norwood Pratt
"The more we know, the more we realize we don't know much." – Austin Hodge
"I think it's important to understand where we are. And where we are is at the very beginning." – Austin Hodge
"It's more the facts that I'm worried about. Some people are teaching absolute crap." – Kevin Gascoyne
Working with the Media: Learn from Top Tea Editors
As a beginning tea writer, I was extremely interested in this seminar. Aaron Kiel (press guy extraordinaire for WTE) headed up a panel packed with some of the big names in tea media. They consisted of Jan Wiegel (Fresh Cup Magazine), Gail Gastelu (The Tea House Times), Lorna Reeves (TeaTime Magazine), Vaness Facenda (Tea & Coffee Trade Journal),
+Dan Bolton
(World Tea News/Tea Journey Magazine),
+Linda Gaylard
(The Tea Stylist), Scott Reitz (Freelance Journalist), and
+Kathy YL Chan
(Condé Nast Traveler, Ritz-Carlton Magazine). I left the room with so many takeaways about pitching to magazines and successfully getting stories published. Perhaps the most poignant for the bloggers in the room was Kathy's advice about never working for free. This is a lesson that I wish I had learned a long time ago.
Fellow blogger
+Darlene Meyers Perry
gave a fantastic presentation on teaware. She often made us giggle with funny little vignettes of her own teaware acquisitions. I think these real world examples also helped to bring the ideas she presented alive for the retailers in the audience. Darlene's background in sales and experience as an online retailer really enable her to speak from the level of her audience. I think everyone left the room with several easily executable ideas. Her enthusiasm for the subject was positively contagious. Do you think my fiance will buy it if I blame Darlene for the gaiwan and tea pet that I bought later that day? I sure hope so!
Make sure that you check out her blog, The Tea Enthusiasts Scrapbook.
She also sells tea and accessories at
The Tea Lover's Archives
. I'm secretly in love with the "Turquoise Waters" matcha bowl but I need another chawan like I need a hole in the head.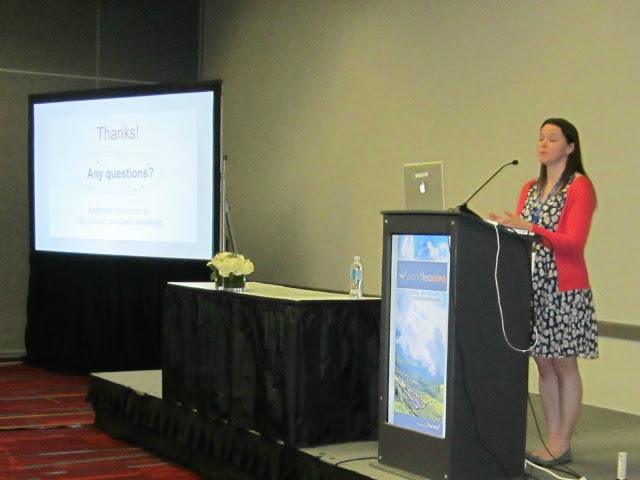 Utilizing Social Media to Connect with Customers Authentically and Grow Your Tea Business
Last of all, we come to the seminar that I presented on social media. My fellow blogger's convinced me to submit a proposal after I won the World Tea Award for Best Social Media Reach last year. Never in a million years did I think that my presentation would actually be selected. I was beyond nervous, especially when I saw the room slowly becoming quite crowded. I was not mentally prepared to present to that many people! Somehow I made it through without falling apart too much (though there were plenty of nervous um's…). I was relieved to step off stage but shocked to find that there was a line a people waiting to talk to me. What? This isn't the kind of thing that happens to a tea blogger from New Jersey. So many of them left me with kind words of encouragement and gratitude. A few even brought gifts to share. My fiance (aka faithful tea sherpa) Periscope'd the presentation for the folks at home. I've included the video below for anyone who missed it.
I know there were a lot of seminars that I did not get to this time around. Let me know in the comments which sessions you enjoyed!