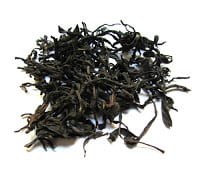 Country of Origin: Georgia
Leaf Appearance: dark, long and twisted
Ingredients: black tea
Steep time: 3 minutes
Water Temperature: 205 degrees
Preparation Method: stainless steel infuser basket and ceramic teacup
Liquor: reddish brown
It's hard to believe but this is the first Georgia (the country, not the state) grown tea that I have ever reviewed here. The taste was malty and slightly sweet without any astringency or bitterness. I was very much reminded of Assam but there were subtle differences. There was an indistinct fruity undertone, not quite peach but something close to it. My second cup was just a hair lighter in body but just as enjoyable as the first. There was just something so comforting about the taste. After a long day at work it made my insides all melty and the stress just slipped away. Sometimes a super simple black tea is all that you need to make things better. It was bold enough to support milk and sugar but it's really not necessary at all. I know that I've said it before but What-Cha really has a knack for affordable yet unusual teas. I have my eye on their China Fujian Anxi 2008 Heavy Roasted Tie Guan Yin Oolong Tea in Bitter Melon and I definitely think that I'll be picking up some of this along with it.
Georgia Natela's Gold Standard Black Tea sample provided by What-Cha.