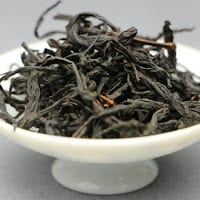 Country of Origin: Taiwan
Leaf Appearance: long, dark and spindly
Ingredients: black tea
Steep time: 30 degrees
Water Temperature: 212 degrees
Preparation Method: porcelain gaiwan
Liquor: deep reddish brown
Taiwanese black teas are among some of my favorites and Ruby 18 in particular in one of my favorite varieties. It's hard to put my finger on it but they always seem to hit the spot. They're smooth yet complex and the leaves stand up well to just about any brewing method. Whether you want to gongfu, go grandpa style, or cold brew some iced tea it's guaranteed to be delicious.
This one from The Jade Leaf was robust but offered surprisingly fruity notes. Imagine plump raisins or really dark cherries. Of course, the flavor notes that we talk about in tea are always subtle but those are what immediately came to mind while I sipped. There was a really nice lingering sweetness that I enjoyed long after my gongfu session had ended. Being a black tea there are some tannins but it never really bordered on astringent or bitter. Just 5g of leaves lasted well over eight consecutive infusions so make sure that you've got plenty of time to steep this one out.
Later infusions brought the slight hint of spice that I look for with this type of tea. It's not quite as obvious as you might find with something like a Rou Gui but it's there in the background if you look for it. When I used slightly cooler water some interesting menthol or eucalyptus hints popped up in the finish. This is a tea that would be great for introducing friends to the wonderful world of loose leaf. The flavor is so surprising for the uninitiated that I think they'll be instantly hooked. Ruby 18's do tend to have a fair amount of caffeine so my one warning would be to not drink them on an empty stomach.
Did you miss my podcast interview with Emilio of The Jade Leaf? Check it out here!
Red Jade #18 Black Tea Summer 2015 sample provided by The Jade Leaf.