TeaGschwendner Pineapple Mango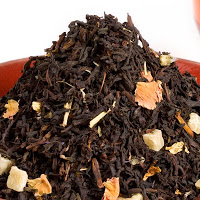 TeaGschwendner lists the ingredients as including black tea, pineapple and mango pieces, sunflower, rose and mallow blossoms, and natural flavor. I brewed this tea using my Zarafina tea maker, set on strong black. The dry leaves had a sweet, fruity aroma. The brightness of the fruit and flowers against the dark leaves was stunning. The liquor was a surprisingly pale for a black tea and the mango aroma was very apparent.
The taste was that of a classic black tea perfectly complimented by the tartness of the fruit. It was refreshing and light, a perfect desert tea. I always say that any good flavored tea has to start with a good quality base tea and it seems as though TeaGshwendner is one company who has gotten that right. I've had several of their teas and everyone made a very enjoyable cuppa. It is no wonder this tea was a top five finalist at the World Tea Championships. I would definitely recommend this tea.