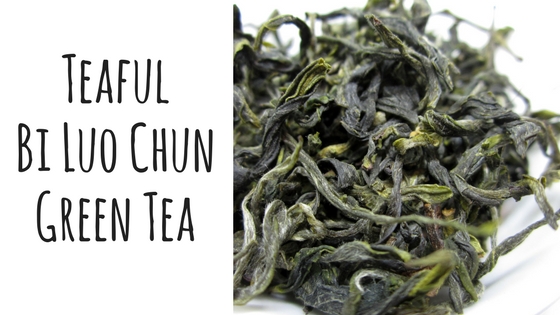 Country of Origin: Taiwan
Leaf Appearance: dark green, slightly curled, downy buds scattered throughout
Steep time: 3 minutes
Water Temperature: 175 degrees
Preparation Method: glass infuser mug
Liquor: pale greenish gold
I was definitely intrigued when I saw that Teaful included a Taiwanese Bi Luo Chun in a recent batch of samples. This is the first one I've reviewed here on the blog that wasn't from China. That being the case, I really wasn't sure what to expect. Teaful's High Mountain Black really wowed me so I had high hopes that this would be another home run.

While the dry leaf was slightly curled, it didn't have the tight curl that I would have expected from its Chinese counterparts. It brewed up a really pretty shade of greenish gold. I was amazed at how many trichomes, the little tiny hairs found on tea buds, were floating in my cup. The leaves did look a bit chopped up once they unfurled but they were still mostly whole. When you consider that this region primarily makes oolong, it is important to take into account that the varietals used are not selected for producing a lot of buds as the ones in Jiangsu undoubtedly are.
The taste was vegetal and light with a refreshing natural sweetness. It was grassy but not unpleasantly so. I was surprised by notes of stone fruits and even a bit of creaminess in the finish. A certain of amount of astringency goes hand in hand with green tea but there was no bitterness at all. My second infusion was lighter bodied but just as pleasant. Floral notes and a background nuttiness became more noticeable.
As is my usual, I tried this tea gongfu first in a glass gaiwan. While it was nice when prepared that way it lacked a bit of body. That could probably be pegged to leaf volume so I decided to give it another go using the directions provided. It made a world of difference, an important reminder that gongfu isn't always better.
It will take a bit more refinement in plucking standard as well as processing for a tea like this to rival its Chinese counterparts. I definitely think they are on the right track though. It's good to diversify and experiment, especially in today's ever changing market. I will definitely be keeping my eye on Teaful and what their Sanxia producers do in the future.
Bi Luo Chun Green Tea sample provided for review by Teaful.