Tea Places: Sullivan Street Tea & Spice Company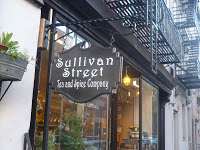 One of the things I love about NYC is that sometimes I'll stumble upon awesome tea shops that are right under my nose. That is exactly what happened when I found Sullivan Street Tea & Spice Company. I had just had dinner at my favorite sandwich spot, Peanut Butter & Co., when I spotted this sweet little shop just down the block. I've been in this neighborhood many times but had never spotted this store until that day. Right away I loved the historic store front and rustic furnishings. Apparently it was a mob hangout many years ago. How cool is that? There was a lot of space to walk around which was great since I can be a bit of a bull in a China shop.
In addition to an extensive tea list, this place is a foodie's dream. They had every spice that you could think of and even some that I had never heard of. The owner was pleasant and knowledgeable. I have a habit of wandering tea shops lost in my own little tea world and he just let me do my thing. They were having a tea tasting the next day but unfortunately I was unable to attend. I picked up some milk oolong and a much searched for bottle of tea seed oil. That's right, cooking oil made from Camellia Sinensis seeds! Reviews for both will be coming soon. I found a great write up about them from the New York Times but you can also find out more about them on their website. If you are ever in the Village and looking for something a little different than your standard chain stores, I definitely suggest checking this place out.