The Tea Enthusiast's Handbook by Mary Lou Heiss and Robert J. Heiss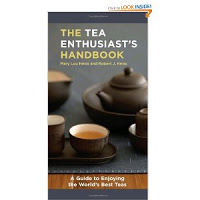 I've been meaning to pick this book for some time and finally found a copy at Eataly in Manhattan. This book is well organized and written in a way that is understandable for both the beginner and the expert. Each type of tea is given its own chapter that features information about history, plucking style, common (and not so common) teas of that type, preparation and storage. I love that they talk about yellow tea as many books never discuss it at all. Each tea major growing region is discussed in relation to the types of tea that they grown.
It's a relatively quick and practical read but packed with lots of information. This is probably one of the most in depth books about tea I have ever read. I have a shelf full of books about tea so I think that speaks volumes. I only wish I had come across it when I first started my tea journey. It would make a perfect gift for the budding tea connoisseur. I would definitely recommend this book.