Most of the tea samples that I receive for review are from China or Japan, so I was really excited when Fresh Carton reached out to me. I adore Indian teas, even if they don't get as much coverage here. They generously shared black teas from four different regions, as well as the itty bitty cast iron teapot that they usually include in their gift basket. Am I the only one who is a sucker for miniature teaware?
I prepared each of these teas using a professional cupping set. They were all made with fully boiling water except for the 1st flush Darjeeling, which was brewed at 180℉.
Spring Darjeeling
The Darjeeling tea was labeled 'Spring Darjeeling'. I could tell that it was a 1st flush based on the appearance of the leaves. There are several 1st flush teas listed on their website, so I did not have a way to tell which one it was. I'm not a fan of labeling Indian teas this way. The estate should always be prominently listed.
Spring Darjeeling brewed up a golden liquor. The leaves had a very green appearance after they were infused. The taste was fruity, crisp. It was light-bodied yet aromatic at the same time. I did find myself missing the classic muscatel taste that Darjeeling is known for.
---
Assam Orthodox
Similar to the Darjeeling, this tea was labeled a bit anonymously. It was also not disclosed which season it had been harvested in. That is one of my 5 details every tea company should reveal about their tea.
The leaves were small and uniformly dark in appearance. Assam Orthodox brewed up a coppery red liquor. The taste was smooth and somewhat sweet, with a lingering aftertaste. A brisk astringency in the finish felt oddly focused in the middle of my tongue.
---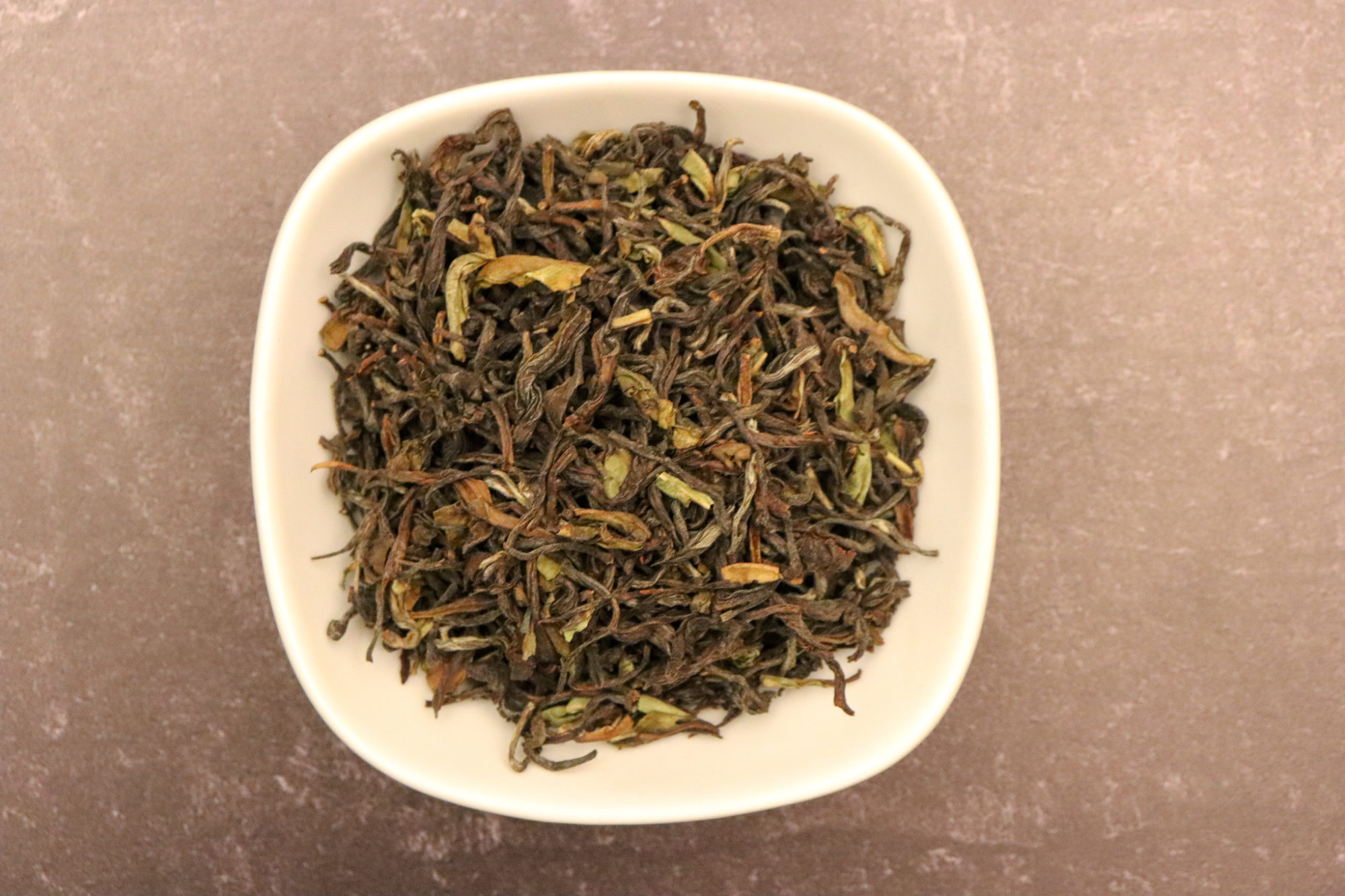 Nilgiri Frost
Horray for a tea that tells us both the estate and the time of year that it was harvested! Nilgiri Frost was harvested in the winter by the Kairbetta Estates. I've tasted a few of these before and the colder air this time of year definitely has a noticeable effect on the taste of the finished tea.
The leaves had a slightly greyish cast to them that did some through under my photography lights. There were a variety of sizes, shapes, and colors visible. Nilgiri Frost brewed up a deep gold liquor. The taste was smooth and sweet with pleasant fruity and floral notes. There was hardly any astringency at all.
---
Himalyan Black
This tea was only labeled as Himalayan Black but based on the appearance of the leaves; I believe it is their Himalayan Wonder First Flush. If that is the case, it was made by one of my personal favorites, the Temi Estate in Sikkim.
The leaves were very tiny and quite tippy. Himalayan Black brewed up an amber-colored liquor. The taste was brisk with a distinctly grapey muscatel note. There was some astringency, but it did not come across as bitter at all.
---
Thank you to Fresh Carton for sharing these teas with me! It's hard to choose a favorite, but I think I would have to go with the Nilgiri Frost. I hope that the way they list their teas becomes a bit more transparent in the future. That is an expectation I always have, especially when they advertise themselves as working directly with tea estates. It is so important for consumers to understand where the tea in their cup comes from.
Have you tried any of these teas? Let me know your thoughts in the comments below!
Teas provided for review by Fresh Carton.
Help Support This Site
Become a Patron!