Social media has always been a huge part of my tea experience and my latest obsession is Snapchat. That's right, it's not just for teenagers! The main purpose of Snapchat is to share live, in the moment pictures and videos. It's a bit more off the cuff and less polished than Instagram. The other major difference is that your posts can only be viewed for 24 hours. A warning: viewers can take screenshots so you should still be careful about posting anything you wouldn't want to have out in the world. Content posted to your story (the Snapchat equivalent of a timeline) is viewable by everyone who follows you but you can also send them to directly to someone rather than posting publicly.
There's some neato features like geofilters and all of those funny faces you see your friends posting on Facebook. To access these all you have to do is press on the screen over your face until you see a white grid briefly appear. After you take a picture get creative by adding text, emoticons or drawing some artwork. One of the coolest things about Snapchat is that your profile picture is actually a QR code that people can use to add you.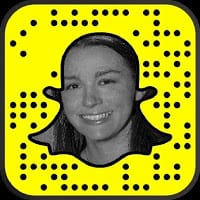 Don't forget to add me!
It can be hard to find people to follow at first since Snapchat doesn't have a discovery feature like other social platforms. I recommend downloading an app called Ghostcodes. Add yourself to the directory and search for people who share your interests.
Basic Snapchat Etiquette
-Skip the TMI (Too Much Information). We don't need to see EVERYTHING you do every day.
-Don't send a picture or video directly to someone that you are also sharing publicly to your story.
-Turn off the sound in videos if you are taking them in a very loud place.
-Don't snap and drive. Seriously! I'm always amazed by how many people do this. It's just not safe and probably illegal in most states since you shouldn't be using your phone while driving.
Tea People to Follow
I created an account (teaformeplease) for the blog a while ago but only recently started diving in. I've been mostly using it to share "behind the scenes" stuff that I'm not sharing elsewhere. It'll definitely be a fun way to share my experience at World Tea Expo!
white2tea
+White2Tea
is one of my favorite puerh vendors. They have an eccentric and fascinating Snapchat account. Expect lots of late night sheng sessions, music and insights into sourcing puerh in Yunnan. You might even catch glimpses of the mysterious Two Dog.
quantitea
Quantitea is a fairly new tea company that specializes in tea flights. I've been living vicariously through the snaps taken on their most recent sourcing trip.
notesontea
Fellow tea blogger +Georgia SS posts about her tea and foodie adventures. She's spending some time in the D.C. area so it's nice to do some vicarious sightseeing too.
ohhowcivilized
+Jee Choe seems to always be on the go (and finding the yummiest treats along the way). I'm really enjoying getting a peek into the tea sommelier certification classes that she is taking.
teahappiness
+sara shacket is just getting started on Snapchat but I'm really looking forward to seeing what she comes up with.
besstic
I think I may have actually found someone who drinks even more tea than I do. Check out besstic's snaps for lots of tea with a touch of humor.
Are there any tea people that I should be following? Let me know in the comments!