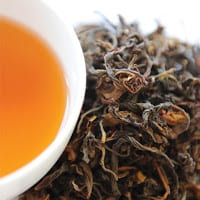 Country of Origin: Malawi
Leaf Appearance: dark, twisted with some stems
Ingredients: black tea
Steep time: 3 minutes
Water Temperature: 200 degrees
Preparation Method: stainless steel infuser basket and ceramic teacup
Liquor: deep amber
Satemwa Estate in Malawi never ceases to surprise me. Their teas are so unique that they really stand out compared to most of the African grown tea that I have tried before. The leaves of this tea were gorgeously long and spindly. You'd almost think that they were a Chinese dan cong! The taste was malty with notes of chocolate and just a hint of citrus brightness. The description on their website compares it to "orangette", a Belgian orange sweet dipped in dark chocolate. Now I must find these delightful sounding things if they taste anything like this tea. It was full bodied with just the right amount of astringency. Milk or sugar were not needed and I think they'd definitely detract from the complexity here. I'm not very sensitive to caffeine but this one definitely got my blood pumping. It would make a great morning tea! Satemwa impressed me when I first met them at World Tea Expo because of their passion and the way that they care for their workers. I've been impressed time and time again by their teas. Until now, What-Cha has been the only supplier but they've just recently signed on as a Tealet grower so I think we can expect to see a lot more of their tea in the states.
Bvumbwe Hand Made sample provided by Satemwa Estate.