Norbu Tea Black Gold Spring Harvest 09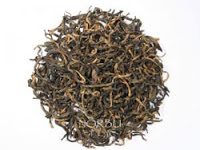 I have been impressed by every selection I have tried from Norbu thus far and this one is no different. The long and twisted dry leaves were a mix of blacks, browns and golden hues. They had the malty aroma typical of Yunnan teas. For my first try, I brewed it in a ceramic pot with an infuser basket using boiling water and steeped it for five minutes. The resulting liquor was a clear reddish color. Once steeped, the leaves took on a uniform chocolate brown color.
This selection was a straight forward black tea. Nothing fancy or extraordinary but sometimes that is a good thing. I'm of the opinion that not every tea needs to be a mind-blowing kind of good. It was mild and sweet with a hint of spiciness. It also had just the right amount of astringency, perfect to use as a daily drinker. It stood up fairly well to a second steeping but I think that a third would be pushing it. I also tried this tea in a gaiwan which brought out the flavors a bit more as is to be expected.