Naivetea Osmanthus Oolong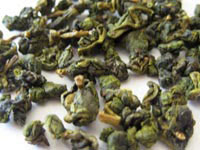 Naivetea has consistently impressed me with the quality of their flavored oolongs. This selection consists of Alishan oolong infused with natural osmanthus. Osmanthus is a flowering shrub that is native to Asia. The dry leaves were a deep green in color with a few bits of yellow flowers mixed in. I steeped this tea using my Breville One-Touch Tea Maker with 195 degree water for 3 minutes. The liquor was a deep golden color.
The only word that I can think of to describe this tea is remarkable. This tea is smooth, sweet and buttery. The osmanthus lent a delicate floral and slightly citrus flavor without being too much like perfume. There was no bitterness and my second infusion was just as delicious. For a long time I thought that I didn't like osmanthus very much but this tea proved to me that the blends I've tried before just weren't up to par. I would definitely recommend this tea.