Mighty Leaf Organic African Nectar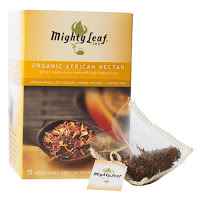 Photo: Mighy Leaf
I have always been a fan of Mighty Leaf because their silky tea bags always feel like a luxury. I like that they are individually wrapped as well. I always throw one in my bag before heading off to a late night class. They list the ingredients of this tea as including rooibos leaves, natural tropical flavors, natural flavors, hibiscus flowers, rose petals, mallow blossoms and marigold flowers. I loved the look of this tea, all of those bright colors mixed in with the rooibos leaves.
The liquor was a deep reddish color and had a floral aroma. This tea was surprisingly traditional, a classic rooibos taste with just a hint of tropical flavoring. Mighty Leaf managed to find a perfect balance, where the rooibos isn't overwhelmed but is complemented by other ingredients. It was relaxing and invigorating at the same time.
You can find out more about this tea here.