This post contains affiliate links. I may earn a commission for purchases made through these links at no additional cost to you. You can find my privacy policy here.
One thing I look forward to every year is trying the new releases from Masters by Adagio Teas. It is their line of specialty teas that are designed to highlight the producers who made them. I previously reviewed the 2019 and 2020 collections. Based on those experiences, I knew that I was in for a treat. I've said it before, but I'll repeat it, I am so happy to see a larger company investing in higher quality teas with transparent sourcing. This should be the norm rather than the exception!
These teas can all be found in the China sampler. They were all tasted when they were first released in the early spring of 2021. Unfortunately, my lengthy queue meant that the write-up couldn't get published until now. A few more reviews will be coming down the pipeline, but I thought it was best to review the Chinese teas separately.
Since these are all white and green teas, they were brewed gongfu style in a glass gaiwan using the same parameters. My water temperature was 170℉, with the first infusion being about 30 seconds long. That was gradually increased throughout each session.
Bai Hao Yin Zhen
Bai Hao Yin Zhen, also known as Silver Needle, is the highest grade of Chinese white tea. The jade-green buds were teeny tiny and covered in fuzzy trichomes. There were so many that the pale yellow liquor almost sparkled in my white porcelain cup. The taste was super soft with a creamy, floral finish. There were notes of a crisp cucumber (with the peel on!) and a minerality that reminded me of wet river rocks. I also noticed a sweetness lingering under my tongue. The second infusion was fruitier, bringing it closer to honeydew melon.
---
Huang Shan Mao Feng
Huang Shan Mao Feng is one of the best-known green teas from Anhui. The leaves were mostly whole bud sets with a few broken ones scattered in. Some of that could have occurred in shipping, though. It brewed up a very pale yellowish-green. The taste was buttery and sweet with a thick, viscous mouthfeel. Notes of honeysuckle had me dreaming of summer days spent outdoors. It was vegetal in a crisp, fresh way that almost bordered on fruity. It was not a bold tea, but the aftertaste lingered long after each sip.
---
Shi Feng Long Jing
Shi Feng Long Jing comes from Lion's Peak, one of the most famous locations for Dragonwell green tea. The leaves were the flat shape that is this tea's signature. I noticed that they had more of a yellow cast to them than the ones I tried in years past. It's important to remember that tea is a seasonal product, and it will not be the same every year, even from the same producer. It brewed up a pale yellow liquor. The taste was super aromatic and sweet. It was soft and floral with notes of orange blossoms. The second infusion had more of the nuttiness that I expect from Long Jing.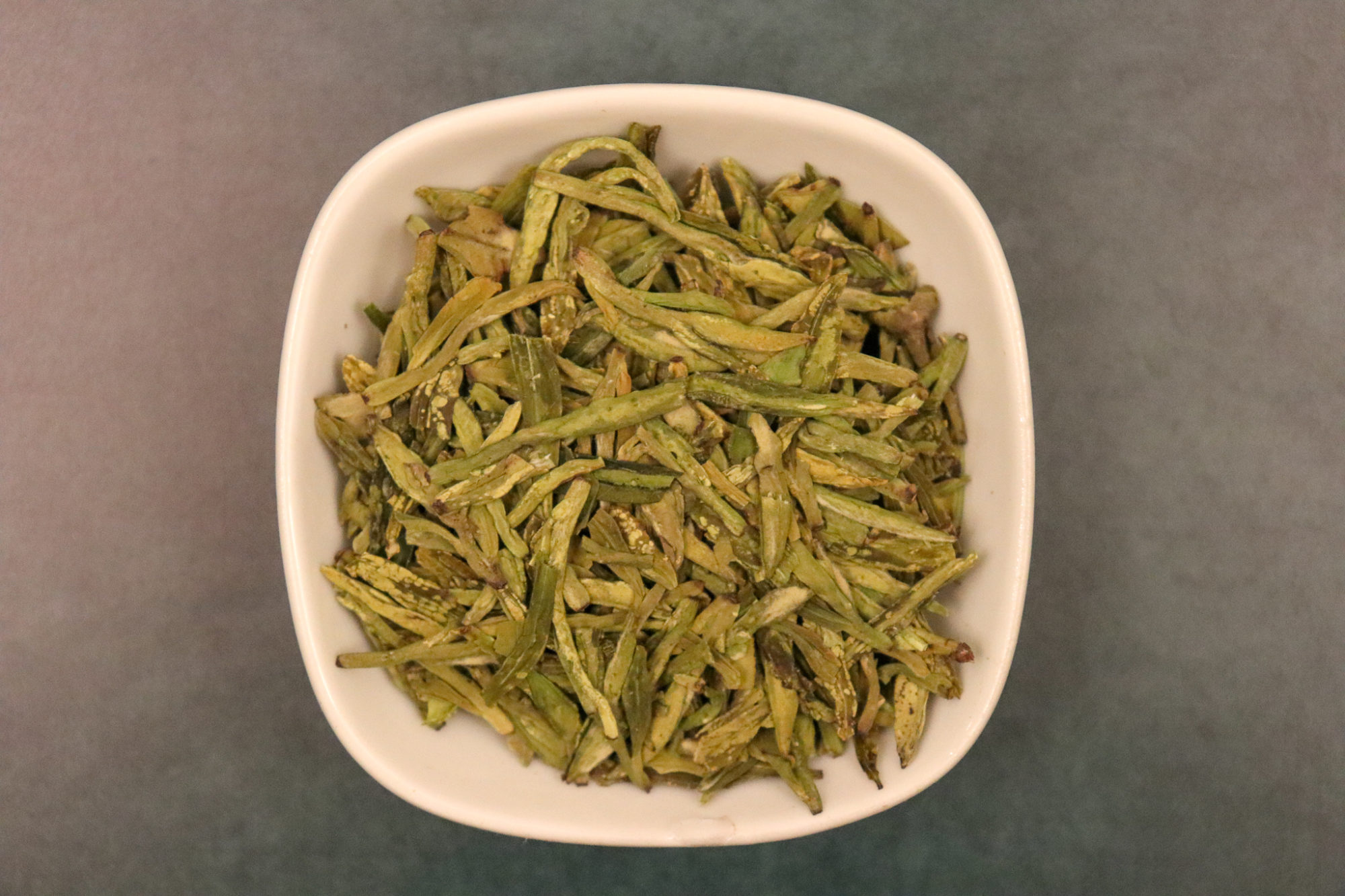 ---
Tai Lake Pi Luo Chun
Tai Lake Pi Luo Chun is the tea I was most excited to try because Bi Luo Chun (the more modern spelling) is one of my favorite Chinese green teas. The leaves were dark green and impossibly tiny. There were fuzzy balls of trichomes scattered throughout. Don't let that put you off; it's actually a sign of an excellent quality tea! They brewed up a pale yellow liquor with lots of trichomes floating in my cup. After brewing, I noticed that the leaves had a strong toasted rice aroma. The taste was crisp and floral with a lingering sweetness. There was some astringency but no bitterness.
Thank you to Masters by Adagio for sharing these teas with me! It's so hard to choose a favorite, but if I had to, Silver Needle takes the cake. It's always been one of my favorite types of white tea, so I might be a bit biased in that respect. Have you tried any members of the class of 2021 from Masters by Adagio Teas? Let me know your thoughts in the comments below!
Samples provided for review by Masters by Adagio Teas.