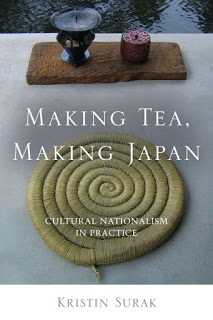 I have an extremely long reading to-do list. The books are mostly tea related though not always. This particular book has been on my Amazon wishlist for some time. It had come up in my recommendations but I thought it was a bit odd that I had never seen it mentioned on blogs or in my other tea circles. How could that be?
Although it is a sociological study, I have to say that this is one of the most fascinating books on Japanese tea culture that I have had the pleasure to read. There were some parts that got a bit dry but otherwise I thought it was a very engaging read. Kristin's approach and tone is respectful and yet also full of the same curiosity that I feel towards Chanoyu. The in depth analysis of tea culture throughout the history of Japan held several surprises. I've read several books on the subject so that part was a bit of a shocker. Kristin's technique of contrasting Chanoyu with other "nation making" activities was an unusual spin. The insight to the modern iemoto system and the various schools of the Japanese tea ceremony was also very much appreciated.
Urasenke is the largest most widespread school and I often feel that books on this subject are written from that very specific perspective. Smaller schools deserve some of the spotlight as well as I was glad to see them addressed here. The author has taken more than a decade of tea ceremony training. It shows in both the depth of exploration and the respect with which the material was handled.
There were some illustrations but I didn't feel like the Kindle version was lacking visually. Another happy surprise was the very thorough bibliography, most of which I highlighted for reference later. I highly recommend giving this book a read to anyone with an interest in Japanese tea culture. I don't want to spoil it all for you so I'll just leave you with this quote.
"That tea has been able to bridge successive epochs and forms of nation-work with such éclat has in part been due to the remarkable metamorphoses in its primary social carriers—moving from an aesthetic pastime of aristocrats, to a political tool of warriors, to a salon for business elites, to become, in the twentieth century, largely a hobby of middle-class housewives."
You can find out more about this book here.