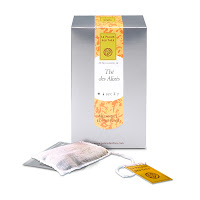 Country of Origin: China
Leaf Appearance: small, dark green
Ingredients: green tea, peach pieces, orange flower water and natural flavors
Steep time: 3 minutes
Water Temperature: 170 degrees
Preparation Method: ceramic teacup
Liquor: gold
The weather is warming up but I will still usually prefer hot tea over cold on most days. Green tea is a great go to because of its lower steeping temperature. I reviewed the loose leaf version of this tea last summer and absolutely loved it. My sample is now long gone so I couldn't resist grabbing a sample tea bag when I visited their Columbus Avenue shop. It was just as delicate and light as I had remembered. The melon and peach notes paired perfectly with the vegetal green tea. It was sweet but not overdone and it didn't come across as artificial or sugary. I still have yet to try this as an iced tea so a return trip will be in order soon. I know that I say this every time that I review a tea from Le Palais des Thés but I just love their fancy woven tea bags. I love not having to worry about plastic and paper changing the taste of my tea or leaching chemicals into it.
You can find out more about this tea here.