Jing Tea Silver Needle White Tea 2008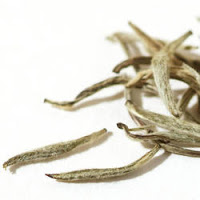 This year has been an oolong odyssey for me so I was looking forward to the change of pace that this tea had to offer. Jing's website explains that it was picked at the end of March 2008 and is made up of the first spring buds of the Da-Bai tea plant. Silver needle is the highest grade of white tea and is still a reigning favorite in my book. The dry leaves were covered in the signature silvery down and had a faint floral scent. I brewed this tea in a gaiwan with 176° water, steeping it for three minutes. The liquor was a light gold color and had a similar aroma to the dry leaves.
This tea was sweet and mellow, just what I would expect from a silver needle. It also had a fresh aftertaste that was very pleasant. The thing that I love most about this type of tea is that it is nearly impossible to botch the brewing. You could toss the leaves in a mug and just let them sink to the bottom and still wind up with a delicous tea. The flavor of this one held up for several steepings, each progressively longer than the last. I have had better quality silver needle teas but this is still a wonderful selection.