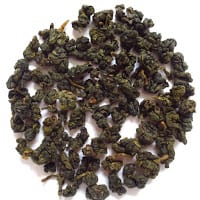 Country of Origin: Taiwan
Leaf Appearance: deep green, tightly rolled
Ingredients: oolong tea
Steep time: 30 seconds
Water Temperature: 212 degrees
Preparation Method: porcelain gaiwan
Liquor: deep gold
Fans of Happy Earth Tea's wonderful Darjeeling teas might be surprised to hear that they also carry some truly excellent oolongs. This particular Taiwanese offering was made on Yiguang Shan using the Qingxin cultivar. On a side note, have you guys checked out the super handy tea cultivar database that Tony Gebely put together on World of Tea? I find myself referring to it often while writing reviews. For the initial review I brewed it in a gaiwan but I couldn't resist bowl brewing those beautiful leaves a few days later. A mellow fruitiness evolved into a deep and lingering floral note. I had a hard to pinning it down to a specific aroma but it was definitely there. The roast came across as a pleasant grain-like nuttiness rather than smoke. I was able to get at least six infusions (lost count after that) with my gaiwan and probably could have squeezed out several more. This tea was slow roasted using an electric heater in a bamboo basket. I have a mini version of one of these roasters so this definitely gives me the itch to experiment with it more.
Hung Shui Oolong Spring 2012 sample provided by Happy Earth Tea.