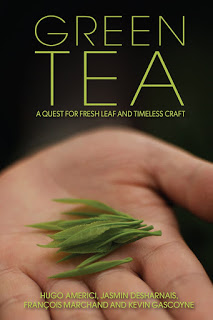 I often get asked for recommendations of books to read about tea. Without a doubt, the top of the list for me is always Tea: History, Terroirs, Varieties. That's why I was so excited when I heard that the guys from Camellia Sinensis were working on a new book. I picked up my copy at the NYC Coffee & Tea Festival and was lucky enough to have it signed by Jasmine and François. Of course, I had to also pick up some of their Dragonwell to go with it.
Most books about tea follow a predictable structure. History, processing, varieties…after a while they all start to sound the same. While there is value in these things for tea drinkers of all levels, it was nice to pick up something a bit outside of the box. After a break introduction to green tea, the book is primarily composed of vignettes focusing on specific tea types. Several regions are covered and the content ranges from first-hand experiences to interviews with tea producers.
The pages are jam-packed with information as well as large, full-color photographs. There are few better ways to learn about tea than with your feet in the fields. For those of us who can't be there in person, these stories are the next best thing. You really get a feel for what a day in the life of a tea buyer is like.
Green tea is often the focus of articles proclaiming its endless health benefits. I was really happy to see that issue addressed in the final chapter. They completed a biochemical analysis of a range of green teas from several different regions. Caffeine concentration, in particular, grabbed my attention because it demonstrated clearly that the category of tea does not always determine how much caffeine ends up in the cup. This kind of work does a lot to dispell the myths that are perpetuated about tea on a regular basis.


I receive a small commission from sales generated by clicks on this ad.